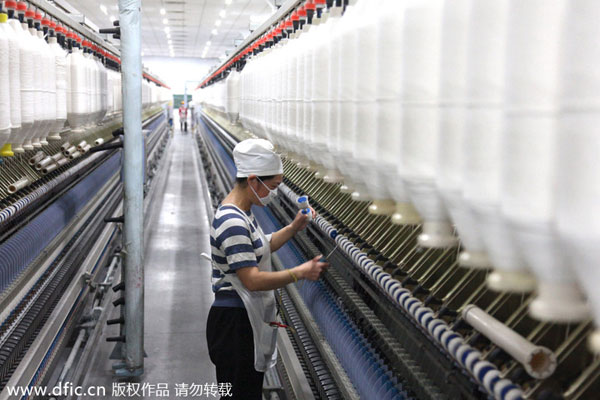 A female Chinese worker handles production of yarn at a textile plant in Xuchang city, central Chinas Henan province, Feb 10, 2014. [Photo/IC]
The Ministry of Finance announced on Wednesday that the value-added tax rate will be a flat 3 percent for many small businesses, effective July 1.
The 4 percent and 6 percent rates were eliminated to make the system fairer, the ministry said.
An executive meeting of the State Council, the cabinet, said last week the move is expected to reduce companies' tax burden by about 24 billion yuan ($3.84 billion) a year.
Zhang Bin, a tax policy researcher at the Chinese Academy of Social Sciences, said the move will simplify tax collection and lower the tax burden for some companies, so it's good news for all.
At present, VAT rates range from 2 percent to 17 percent.
The rate cut will mainly benefit the water sector, small hydropower facilities, building materials producers and biological products manufacturers, all of which now pay 6 percent VAT.
Also benefitting will be consignment stores, pawnshops and auction houses, which now pay a VAT rate of 4 percent.
However, the Finance Ministry announcement differed slightly from that of the State Council, since there was no reduction in the 5 percent VAT that applies to Chinese-foreign joint oil and gas exploration.
"This suggests thatpolicy change is still inclined to those sectors that are more related to living standards", said RobertLi, a tax specialist in China for PricewaterhouseCoopers LLP.
This reform mainly targets small and medium-sized companies involved in the sale of certain commodities, he said, adding that the new policy won't mean much change for the shift from business tax to VAT, because the companies are already subject to VAT and generally not eligible to claim VAT credits.
Li said the move was part of the Chinese government's effort to use tax reform to create jobs and maintain economic growth, as well as a signal of the next step in tax reform.
The shift from business tax to VAT "is likely to be expanded to the consumer service sector, which also created lots of jobs but now faces challenges due to increasing costs, and it is possible that the reform may aim at lowering, or at least maintaining, the tax burden for these companies as well," Li said.
The authorities may further simplify VAT rates over the long term, he added, which would reduce tax evasion and lower tax administration costs.
Tax revenue at the national level rose 6.8 per-cent in May to 1.22 trillion yuan, according to the Finance Ministry. The low rate of growth reflected a weakening economy, slowing property sales and a growing tax base.