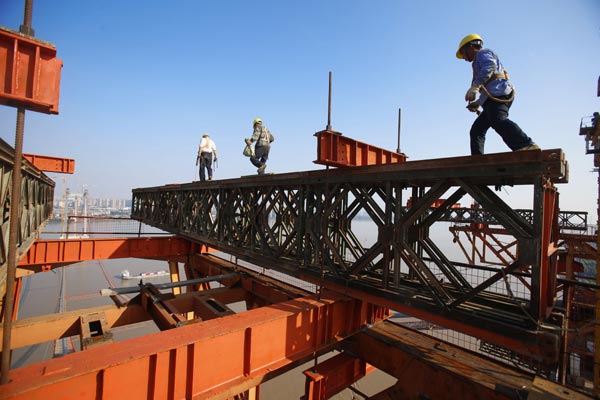 In the past years, local governments have borrowed heavily to finance infrastructure projects. If defaults on debt repayments occur, experts say it could cause a confidence crisis. Chen Zhuo / for China Daily
Repayments, default possibilities might affect infrastructure projects, experts say
Chinese local governments will issue new debt in 2014 to repay old loans, since a large amount of local government debts will mature in the near term, said analysts in Hong Kong.
"Based on National Audit Office data, this year and early 2015 will be the peak repayment period for local government debt," said Paul Chan, chief Asia ex-Japan investment officer of Invesco Ltd.
"This is a maturity mismatch problem. In 2009, in order to support growth, the government really needed a lot of money to start infrastructure projects. However, it's not realistic to ask for the repayment of both principal and interest, if a tunnel was built only three years ago."
Chan pointed out that local governments need to roll over their debts. This could be done through bank financing or issuing corporate bonds.
"Hopefully, they will choose bonds, because liquidity is tight on the mainland, and that's expected to continue," he said.
"Banks will have to issue preferred shares first to prop up their capital bases, if they are financing these rollovers."
He added: "As the Hong Kong stock market started to pick up in the fourth quarter, and the IPO freeze in the A-share market has ended, hopefully that will provide an alternative channel to refinance the debts."
"Hot money leaking into China will also be interested in buying debt, but only the high-yield variety," he said. "We expect net capital inflows into the mainland market this year, as foreign exchange reserves are accumulating fast while exports haven't made a strong recovery."
However, not all creditors will be repaid, Chan said.
"There will be defaults because some projects didn't get the necessary approvals in 2009 and 2010. They will face difficulty in rolling over their debt," said Chan.
"It's also a chance for the government to mull over what projects to keep. For those with the right documents, I think Beijing will sign the check," he said.
"Whether the central government will allow defaults depends on the impact. It could trigger a chain reaction and lead to a confidence crisis," said Chris Leung, senior economist of DBS Bank (HK) Ltd. "It's less possible to see large-scale defaults.
"However, even with rollovers, a lot of maturing debts won't be repaid on time," said Leung. "The scenario will boost interbank rates on the mainland, because the risk premium is due to be high this year."
Leung said the situation could affect the pace of interest rate liberalization on the mainland, because a freer market would add pressure to the already high rates. "So if the debt problem can't be worked out properly, it will drag on financial reforms in China."