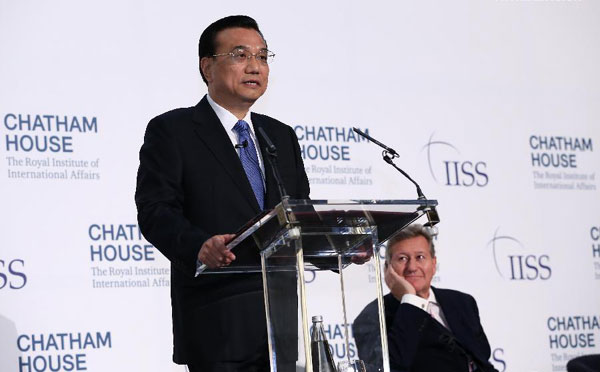 Chinese Premier Li Keqiang (L) delivers a speech to Chatham House and the International Institute for Strategic Studies, two prestigious British think tanks, at the Mansion House in London, capital of Britain, June 18, 2014. [Photo/Xinhua]
LONDON - Visiting Chinese Premier Li Keqiang said on Wednesday that his country's economy is not heading to a hard landing and will continue to grow at a moderate to high pace.
The about 7.5-percent growth of the Chinese economy in recent years has given rise to skepticism and even worries of a hard landing, he noted while addressing a gathering co-hosted by Chatham House and the International Institute for Strategic Studies, two prestigious British think tanks.
"Here I honestly and officially promise all of you: That will not happen," he said at the event, which took place at Mansion House in the City of London.
Pointing out that China is still in the process of industrialization and urbanization and its development remains unbalanced, he said the development gaps between different regions and between urban and rural areas mean huge growth potential and domestic demand.
As long as China moves in the right direction, makes good use of Oriental wisdom and draws on Western experiences, its economy will keep growing at a moderate to high pace in the long run, he said.
As for now, he added, the Chinese government is employing precise adjustment and control measures to make sure that the pace of economic growth will be no slower than 7.5 percent so as to ensure job creation.
Meanwhile, Beijing will prevent consumer inflation from exceeding 3.5 percent so as not to impact people's livelihood, said the premier.
"We are able to carry out targeted control, and will not resort to strong stimulus," he said. "We are able to achieve the major economic indicators set for this year, including a 7.5-percent growth."
Given the scale of the Chinese economy, the second largest in the world, it is no easy task, he acknowledged, adding that if China makes it, it will not only benefit China itself but present the whole world with great development opportunities.
The Chinese premier is in London for an official visit to Britain. His ongoing two-nation Europe tour will also take him to Greece.