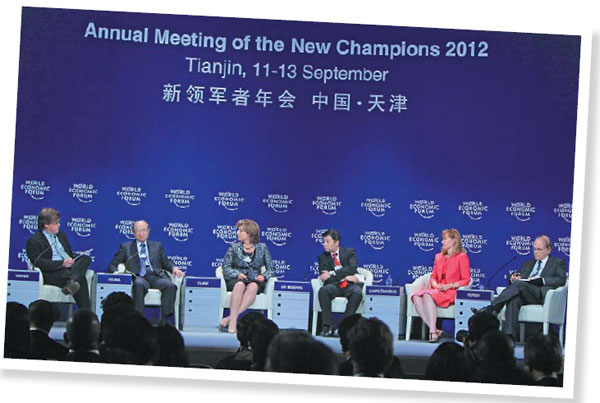 "Previously when people met me at the airport, they would say, 'Professor, I've met you at Davos' - but now they say, 'I've met you in Tianjin'."
That's how founder and executive chairman of the World Economic Forum Klaus Schwab opened a discussion with the Tianjin delegation in his office last September.
"The design of the Tianjin Culture Center is very distinctive," he told them. "The library, theater and museum there are amazing."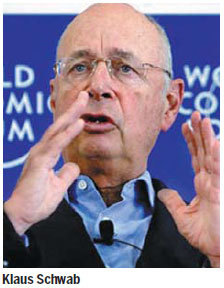 Despite his well-known identity as the top man at the WEF, Schwab still prefers people call him "professor".
Born in Ravensburg, Germany in 1938, Schwab enrolled to ETH Zurich in 1957. It is considered the best university in Switzerland, a place where Albert Einstein also studied.
At the time, Schwab was a studious young man. He received doctoral degrees in engineering and economics.
To broaden his vision, he went to study at Harvard University and received master's degree in public administration from the Kennedy School of Government a year later.
After nearly 10 years of study at universities, Schwab eventually became a part-time business professor at the University of Geneva.
He was full of passion and was never content with the status quo. He always had an idea to build a platform for business and political leaders in the Europe to exchange their thoughts.
In 1970, Schwab began to work on turning the idea into reality. In the following year, the European Management Symposium was held successfully in Davos, a ski resort in the Swiss Alps. Four hundred and fifty participants from 31 countries, 50 teachers and reporters attended the event.
Schwab was encouraged by the first success and established the European Management Forum.
From 1972 to 2003, Schwab was a full-time professor at the University of Geneva. In addition to teaching, he worked on developing the forum, which changed its name to the World Economic Forum in 1987.
The relationship between the forum and China can be traced back more than 35 years.
In 1978, China started its reform and opening-up. Recognizing the significance of the change, Schwab send an invitation to later leader Deng Xiaoping.