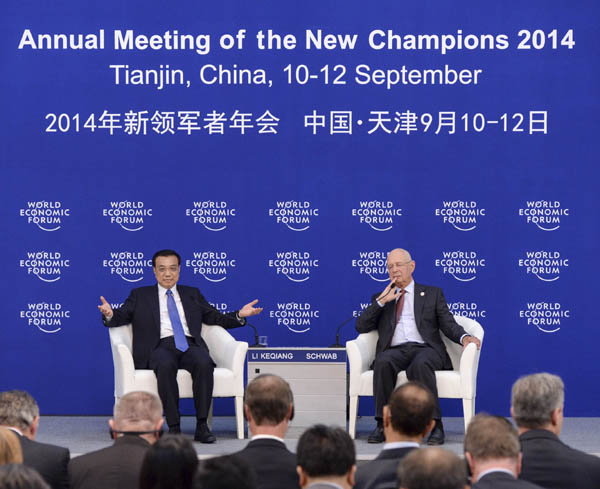 Chinese Premier Li Keqiang (L) and Klaus Schwab, founder and executive chairman of the World Economic Forum (WEF) attend a meeting ahead of the Summer Davos forum in Tianjing Municipality, North China, Sept 9, 2014. [Photo/Xinhua]
TIANJIN - Premier Li Keqiang said Tuesday that recent anti-trust probes had not targeted specific firms or industries, and foreign companies accounted for only 10 percent of those involved.
By cutting red tape and strengthening monitoring in the past year, China has tried to cultivate an easy, fair and competitive business climate, the premier told a group of business leaders ahead of the Summer Davos forum.
China launched a series of probes into big foreign names in recent years, the latest episodes being anti-monopoly investigations against Microsoft and Jaguar Land Rover. These high-profile probes are rippling across the Western business circles and stirring unease among firms who perceive unfair treatment.
Apart from anti-trust investigations, China also cracked down on theft of trade secrets, intellectual property rights infringement and counterfeiting, the premier said, stressing that these measures do not target particular firms. The amount of attention given to the probes is a result of increasing transparency on the part of the regulators.
The regulative measures China carried out, including the anti-monopoly probes, are in accordance with the law, transparent and fair, the premier emphasized. It benefits China because more foreign firms and products will be more likely to enter the Chinese market if the environment is fair and competitive.
Klaus Kleinfeld, CEO of global aluminum producer Alcoa, attended the event and was reassured by Li's remarks.
"He described the rules apply to everyone," Kleinfeld told Xinhua. "The premier has emphasized very strong desire to push reforms and to make a level play field. I feel very welcome and so do the colleagues."