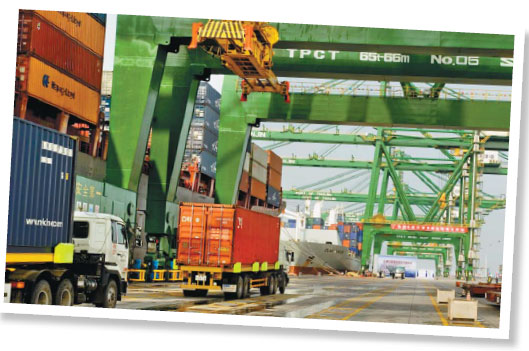 China's leading energy and environmental protection service company, CECEP Group, announced to operate its leasing business from a regional headquarters in the Dongjiang Free Trade Port Zone in Tianjin.
A number of State-owned enterprises have chosen Dongjiang as a launch venue for financial leasing businesses. Before CECEP Group, National Offshore Oil Corp and Huaneng - another two leading Chinese energy companies - started their leasing operations there.
"Dongjiang offers a wide range of incentives in government services, preferential policies, logistics and human resources for local companies," said Wei Taoli, marketing director for ship leasing at Minsheng Financial Leasing Co Ltd.
Wei added that Dongjiang was likely to attract more attention from the country due to its high potential in finance-related businesses.
Dongjiang has played a leading role in China's financial leasing business by attracting 90 percent of aircraft leasing businesses and 80 percent of ship leasing businesses in the nation.
The area's emerging offshore equipment leasing businesses also led the market in the first quarter of this year, according to the administrative committee of Tianjin Dongjiang Free Trade Port Zone.
Statistics from the committee showed 704 financial leasing companies had registered in the zone by the first half of the year. This accounted for 10 percent of the total number nationwide.
Their combined registered capital reached more than 25.22 billion yuan and their rentals amounted to 17.89 billion yuan.
"The business potential is huge in Dongjiang because the zone is a part of Tianjin Binhai New Area, the third economic engine in China after Shenzhen and Shanghai's Pudong New area," said Li Hui, vice-director of Dongjiang International Shipping and Finance Promotion Center.
The 10-sq-km bonded area of Dongjiang Port was approved by the State Council on August 31, 2006. Since then, it has become one of the largest and most open bonded ports in China.
Responding to the nation's plan to develop Tianjin into the financial hub of North China, the local government offered a number of incentives for leasing companies.
Companies can set up special purpose vehicles for aircraft, vessels and other large equipment.
Tax rebates in Dongjiang are more favorable and flexible than any other region, according to the local administrative committee.
For instance, with aircraft with a dead weight of more than 25 tons purchased from abroad and leased to Chinese aviation companies, the import value added tax can be reduced from 17 percent to 5 percent.
Last year, Minsheng Financial Leasing leased three bulk cargo ships worth 740 million yuan to a Hong Kong shipping company. The tax rebate for the deal amounted to 107.63 million yuan.
Currently, local companies like ICBC Financial Leasing and CMB Financial Leasing are vigorously negotiating leasing services for offshore oil rigs, ships, construction machines and railway equipment.
To promote the sector's growth, the Dongjiang administrative commission worked closely with Tianjin Port to offer better services.
It also cooperated with other government offices, such as customs, quality administration and maritime affairs to offer one-stop services to enterprises.
In the next five to 10 years, Dongjiang is expected to be the hub for the aircraft leasing business in China and even the world, said Zhang Zhongdong, vice-president of the administrative committee of Tianjin Dongjiang Free Trade Port Zone.