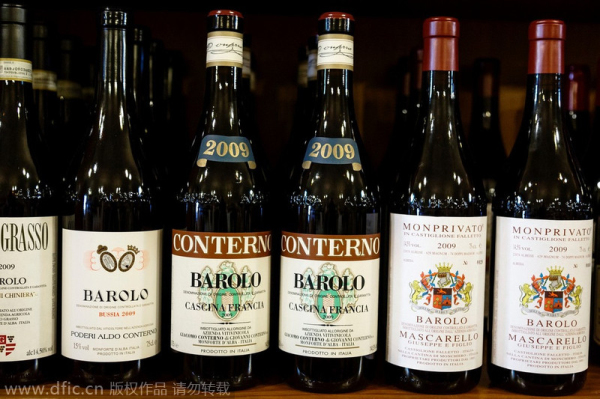 Bottles of wine at Grinzane Cavour castle, Langhe, Cuneo district, Piedmont, Italy. [Photo/IC]
MILAN - Italian wineries are confident that China's market will continue to offer important opportunities to the made-in-Italy products, an industry expert told Xinhua.
Denis Pantini, Area Director for Agriculture and Food Industry of Bologna-based think tank Nomisma, said Italian wine imports to China, though registering a 1.5-percent drop in value, have seen a 2-percent increase in quantity in the first semester of 2014 compared to the January-June period last year.
All of the main exporting countries to China, namely France, Australia, Chile and Spain, have registered falls both in value and quantity in the same lapse of time, according to figures of Nomisma's "Wine monitor" report.
"I believe the temporary slowing down of China's wine imports does not highlight a market slump but on the contrary can provide its adjustment and healthier growth," Pantini explained to Xinhua.
"Though Italy still matters little in China compared to other countries such as France, which accounts for around 50 percent of the Chinese wine market, I see good perspectives for our companies, which have made increasingly important steps in the past few years," he said.
Pantini noted the Chinese wine market is not an easy one and should be approached in a systematic way especially in terms of direct commercial presence, which is what French wine producers have always done and what Italian wineries need to increasingly do.
Data of national statistics institute Istat have shown that in 2013 for the first time sales of Italian wines abroad broke through the 5 billion euros ($6.7 billion) barrier.
With a 7.3-percent growth over 2012, wine was the most exported Italian agri-food product last year, the data highlighted.
Overall, the wine sector generates annual turnover of 12 billion euros ($16 billion) through about 450,000 wine-making and agricultural companies in Italy, according to industry estimates.