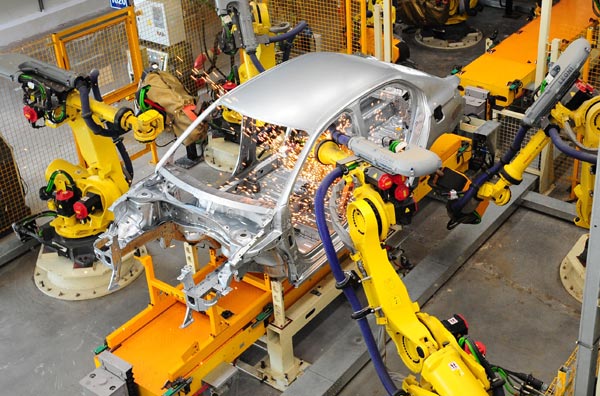 A robot welder operates at a workshop of Dongfeng Peugeot Citroen Automobile Co Ltd in Wuhan, captial of Hubei province. China overtook Japan to become the world's largest and fastest-growing robot market in 2013. [Photo/Xinhua]
Labor-intensive industries are replacing people with robots to raise efficiency
If some of the workshops had been upgraded with totally automated assembly lines or robots, the blast that killed 75 people at Kunshan Zhongrong Metal Products in East China's Jiangsu province would never had happened, according to Zhou Jianghua, sales manager at Kawasaki Robotics (Tianjin) Co Ltd Shanghai branch.
Kawasaki is a leading industrial robots provider from Japan with customers mainly from the auto industry, such as Toyota.
According to Zhou, a lot of labor-intensive companies such as sanitary products providers and rubber manufacturers in the more developed Yangtze River Delta region and Pearl River Delta region have replaced human labor with robots.
"Not only does the dust from polishing the metal cause great harm to people's health, it also incurs a high potential safety hazard. Quite a lot of jobs, especially in the auto industry, are now completed by robots, which can ensure high accuracy and low potential in human casualty during the working process," said Zhou.
Demand for robots has shot up in China in the past few years. China overtook Japan to become the world's largest and fastest growing robot market in 2013, with more than 35,000 units of industrial robots sold in China last year, according to the International Federation of Robotics.
One of the reasons for the increased demand, is that a number of companies home and abroad have started introducing robots to assembly lines.
Domestic shoe manufacturer Juyi Group Co Ltd based in Wenzhou of Zhejiang province is the first company in the city to introduce fully automated assembly lines in 2010. A 50,000 yuan ($8,112) automated stitching machine imported from Japan, which is 20 times the price of a traditional machine, can be 10 times more efficient than an experienced worker.
According to Pan Jianzhong, chairman of Juyi, the use of automated lines or robots not only improves the product quality but also solves the problem of labor shortage that many manufacturing companies in the Chinese coastal cities have encountered.