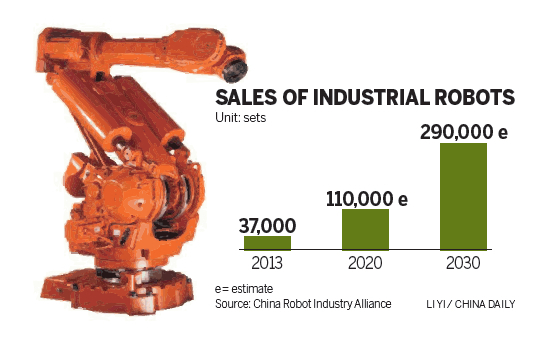 Robotics companies are expected to triple sales in China to around 110,000 sets by 2020 as more Chinese manufacturers embrace the high-end growth path, a senior industry official said on Tuesday.
Wang Ruixiang, head of the China Machinery Industry Federation, said based on the rapid growth of the nation's
robotic industry in recent years, the federation has set a high target and the government will continue to provide support for the industry's development.
By 2030, sales of industrial robots will reach 290,000 sets and a couple of Chinese companies would be among the top five robotics companies in the world, Wang said.
"As the world's second-largest economy, China has huge potential in the robot market, which is prompting more foreign and domestic companies to invest in the sector," he said.
According to a recent United Nations report, China is likely to see a sharp fall in its labor force by 2015. The labor shortage and the lack of advanced technologies represent huge business opportunities for the robotics sector, said Song Xiaogang, secretary-general of the China Robot Industry Alliance.
According to data provided by the alliance, 37,000 industrial robots were sold in China last year, a 36 percent growth over 2012.
China became the largest robot consumer market, with one-fifth of the global market share, overtaking Japan and the United States in 2013, said the alliance.
Haier Group, a consumer electronics and home appliances company, is one of the Chinese firms that is embracing robotics in a big way. The company plans to cut 10,000 employees this year after laying off 16,000 employees in 2013, according to Zhang Ruimin, chief executive officer of the company.
Zhang said most of the layoffs this year will target mid-level employees, as the mechanization process gathers momentum. He constantly stressed the idea that in the long run the manufacturing sector would need to use more technology like robots.