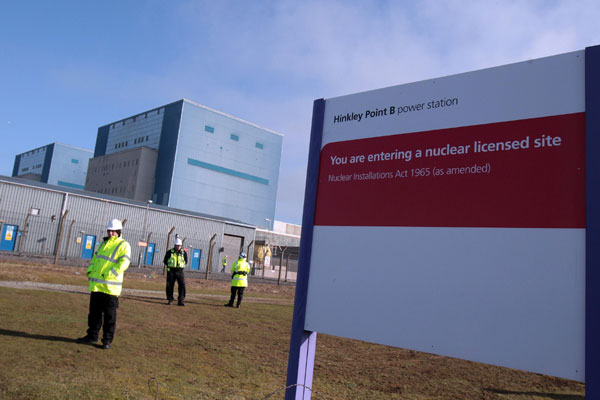 Security guards patrol the grounds of the Hinkley Point B nuclear power station near Bridgwater, England. MATT CARDY/GETTY IMAGES
CGNPC, CNNC to help fund new plant in Britain
China's nuclear companies are looking into the possibility of owning a controlling stake in a UK nuclear project, a source at a Chinese State-owned nuclear company said during a recent three-day exhibition in Beijing, Nuclear Industry China 2014.
"The site has not been chosen yet, but it will be one of the new stations owned by French power giant EDF (Electricite de France). What we want is to invest in a nuclear station with a better location, if possible," the source from China General Nuclear Power Corp told China Daily on condition of anonymity.
The British government gave the go-ahead to CGNPC and fellow nuclear heavyweight China National Nuclear Corp to invest in the $2.6 billion project to build Hinkley Point C in Somerset, southwest England, a two-reactor, 3.2-gigawatt station led by EDF.
But the project was delayed when the European Commission started an investigation in December on whether the UK government had offered financial support for the project, which may be against European Union rules.
A CNNC source close to the matter said that as the investigation winds down in late August or early September, the three parties, including CGNPC, CNNC and EDF, are likely to sign an investment agreement to specify the shares and roles that they will play in the project in October.
"We want to close the deal as soon as possible as it has been up in the air for a long time," the source said.
Hinkley Point C will be the first nuclear plant deal in the EU since the disaster at Fukushima in Japan prompted a major rethink of the energy source's merits.
Britain plans to have the first reactor at the site churning out power by 2023.
"It will be a landmark deal for China as well," the source from CNNC said. "The Chinese nuclear firms are able to gain experience in the UK and set up a good reputation in the global nuclear market, lifting up the China nuclear energy establishment."