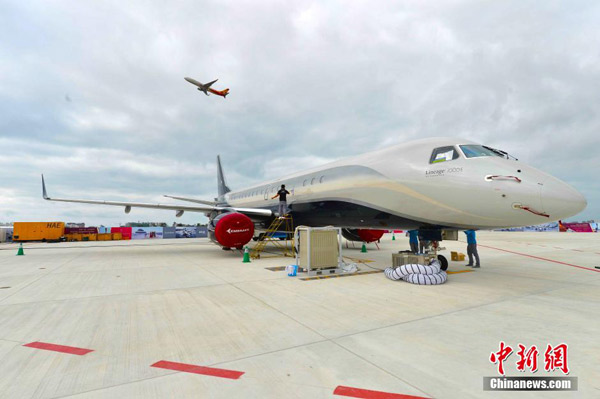 A business jet from a Brazilian airline company is pictured. [Photo / Chinanews.com]
SHANGHAI - After a few years of powering forward China's business aviation has started to slow burdened by insufficient support.
"China's business aviation market is eye-catching with great potential," said Wang Zhiqing deputy administrator of the Civil Aviation Administration of China (CAAC). "But the country's business aviation market has slowed down since last year," he said at the Asian Business Aviation Conference and Exhibition (ABACE).
The annual conference is the region's largest event dedicated to business aviation. It ran from April 15 to 17 this year.
Business aviation is the use of general aviation airplanes or helicopters for a business purpose.
By the end of 2013, there were less than 300 business aircraft operating in the Chinese mainland, much less than the 20,000 in the United States and the 3,000 in Brazil.
With its vast area and growing number of high powered executives, there is a huge market for business jets in China, said Einar Tangen, principal of DGI Design Group, an interior design provider for homes, jets, yachts and cars.
"To balance their duties they need to make the most efficient use of their time," said Tangen.
Shortages
Still in its infancy, with an underdeveloped infrastructure, few professionals and limited progress in opening up airspace, business aviation has started to drag.
Nearly all operators and leasing providers in the industry have noticed the market slow down since last year, said Wu Jingkui, vice president of sales and market development in North Asia of Cessna Aircraft.
"China is facing a tough task. It's not easy to purchase more aircraft or open up airspace," said Wang.
It comes down to airspace, airport construction, professional personnel development and cultivation of support services, he said.