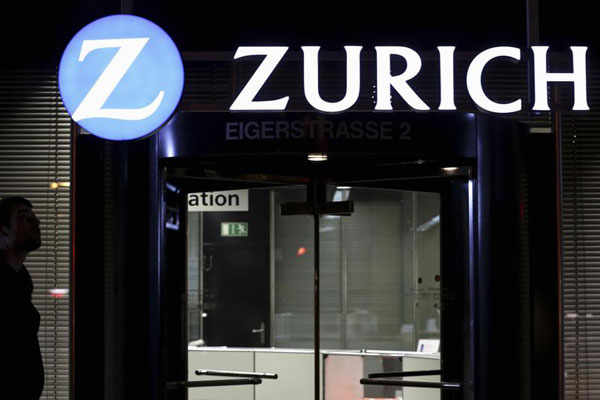 The logo of Zurich Insurance Group is seen on a building in Bern, Switzerland, Feb 10, 2014.[Photo/Agencies]
Swiss giant, attracted by possibilities for growth, seeking Shanghai branch
Zurich Insurance Co Ltd is actively seeking merger and acquisition opportunities in China to fuel its business expansion, a company executive said on Thursday.
"We are looking for appropriate M&A opportunities to boost our presence and expand our business scope," said Stuart A. Spencer, chief executive officer of general insurance for the Asia-Pacific region.
He said Zurich adopted a "defensive" stance during the global financial crisis. Now, thanks to a solid balance sheet, the company wants to be more aggressive.
"We have no preference as to whether the target should be a domestic one or an international one having operations in China, but it should be a strategic and cultural fit with our business," Spencer said.
Last April, the China Insurance Regulatory Commission approved the Swiss company's plan to transform its Beijing branch into a wholly owned subsidiary, making it easier to expand across the country.
Spencer said the company has since submitted an application to the CIRC to open a branch in Shanghai.
Zurich General Insurance Co (China) Ltd generated premium income of 496 million yuan ($80 million) last year, up 16.6 percent year-on-year.
"We expect to maintain a growth rate no lower than that this year," said Spencer. "And we aim to achieve a healthy profit margin within three years."
China's economic growth has been slowing, but Spencer said that the company is still extremely bullish on its business prospects in the nation.
"China's economy remains very resilient, and it is incredible for the world's second-biggest economy to maintain such rapid growth," said Spencer.