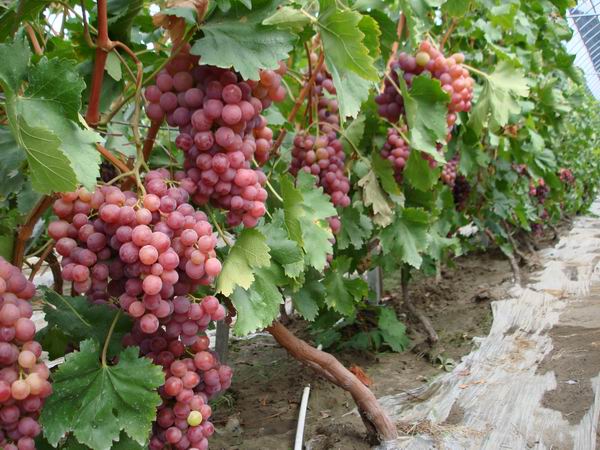 File photo shows grapes planted in greenhouse of Mainling Farm,on the Qinghai-Tibet Plateau. [Photo/ xzmlnc.com]
BEIJING - China has become the world's second largest agricultural insurance market after the United States, the country's insurance regulator said on Tuesday.
China's agricultural insurance covered 1.1 billion mu (73 million hectares) of crops in 2013, accounting for 45 percent of the total planting acreage, said Xiang Junbo, head of the China Insurance Regulatory Commission.
A total of 20.9 billion yuan ($3.4 billion) was paid for compensation, benefiting 33.67 million rural households last year, said Xiang at a press conference on the sidelines of the National People's Congress, China's top legislature.
A major planter in northeast China's Heilongjiang province received as much as 3.52 million yuan in compensation last year, he said.
Xiang said China has always supported foreign capital in the country's agricultural insurance programs.
China will continue to extend the coverage of the insurance, strengthen supervision and pay high attention to risk control, he said.
The head of the commission also stressed the importance of establishing a catastrophe insurance system, adding that it would relieve the financial burdens on the government.
Compensation from catastrophe insurance normally covers 30 percent to 40 percent of losses internationally. In China it covers less than 1 percent, said Xiang.
The Wenchuan earthquake in 2008 caused direct economic losses of 845.1 billion yuan but compensation paid out from insurance was just over 2 billion yuan, accounting for 0.2 percent of the total losses, he said.
Catastrophe insurance policies are being trialed in Chuxiong Yi Autonomous Prefecture of southwest China's Yunnan province and Shenzhen city of south China's Guangdong province, focusing on properties and personal safety respectively, he said.
China will also promote catastrophe insurance legislation to get more government support, he said.