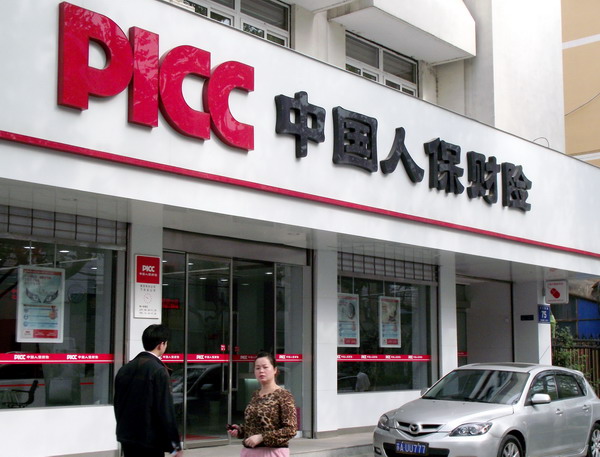 Local residents pass a branch of PICC in Nanjing, Jiangsu province. Zhen Huai / For China Daily 
Insurer has funds to support all subsidiaries, chairman says
People's Insurance Co (Group) of China, one of the nation's largest insurers, probably will suspend its listing plan on the Shanghai stock exchange this year, according to the group's chairman, Wu Yan.
"We think PICC Group should be more strategic in arranging the listing plan at home," Wu said in an exclusive interview with China Daily while attending the two sessions in mid-March.
The company usually considers a listing when it needs money to fuel its development, according to Wu.
"So far, we still have enough money to support the business expansion of all of our subsidiaries," said Wu. "Moreover, we should also consider our listing's possible impact on an already sluggish market."
In 2012, PICC Group submitted an application to the China Securities Regulatory Commission to float A-shares in Shanghai.
"We're still waiting for the feedback from the regulator and seeking appropriate timing," said Sheng Hetai, assistant to the president of PICC Group.
As of March 20, a total of 685 candidates were waiting to issue shares, with 170 scheduled for a Shanghai listing and the remaining 515 standing in line in Shenzhen, industry statistics showed.
It may take the industry watchdog one to two years to finish reviewing them all, industry analysts estimated. The candidate list ballooned during an IPO suspension from November 2013 to January 2014, when the regulator prepared for reform that strengthened information disclosure and oversight of investment banks.
And the regulator is encouraging candidates for initial public offerings to shift to the over-the-counter market to avoid a prolonged wait.
PICC Group went public in Hong Kong in late 2012 and raised about HK$24 billion ($3.09 billion) in the city's biggest IPO that year.
The group's net profit grew 18.8 percent year-on-year to 12 billion yuan ($1.93 billion) in 2013, thanks to the fast-growing premium income and improved investment returns, it said in a filing with the Hong Kong Stock Exchange late Friday.
The gross premium income of the group rose 15.5 percent year-on-year to 306 billion yuan, 4.3 percentage points above the industry's average.
And the company's investment yield jumped 49.9 percent on a yearly basis to 30.8 billion yuan.
The rate of return on investment stood at 5.2 percent, also beating the industry's average, according to its statement.
The impressive increase in investment income was partly due to the group's investment in Industrial Bank Co Ltd in 2012, according to Wang Jiachun, chief economist with PICC Asset Management Co Ltd.