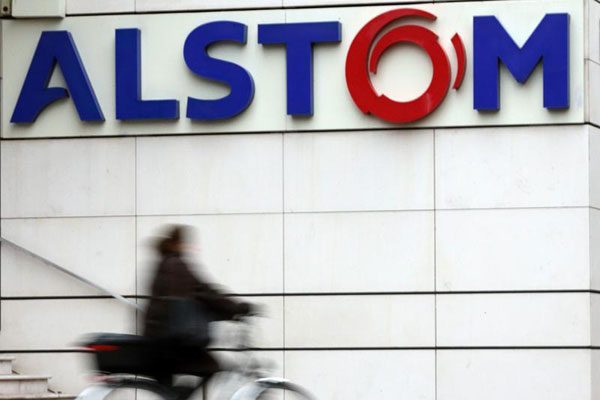 A cyclist rides his bike past Alstom headquarters in Levallois-Perret, near Paris, Nov 6, 2013.[Photo/Agencies]
French power generation giant Alstom SA said on Tuesday that it expects to supply the lion's share of the steam turbine market for nuclear power generation in China, the world's fastest-growing nation in terms of atomic energy.
"China will install another 800 gigawatts of capacity for nuclear power, about 70 percent of which will use our technology for steam turbines and other key components," Chen Chaoming, vice-president of Nuclear China-Alstom Thermal, told reporters in Beijing during the 13th edition of Nuclear Industry China, organized by the Chinese Nuclear Society.
Chen, also general manager of Alstom Wuhan Engineering and Technology Co Ltd, said the company has been gearing up to expand its presence in China with investment and recruitment.
"Despite the post-Fukushima delays," he said, referring to the Japanese disaster of three years ago, "China's nuclear market has a huge potential for growth. Basically, it is because China's nuclear industry is still at a nascent stage. Power generated by nuclear plants accounts for less than 2 percent," he said.
"Therefore, the nation should build more plants to feed its growing energy demand."
French multinational conglomerate Alstom, which entered the Chinese market in the early 1980s, has won many contracts to supply key components for nuclear plants, including turbines, turbo generators, heat exchanges and pumps.
Last October, it signed a cooperation agreement with Dongfang Electric Corp (DEC) to supply turbine and generator packages for China's nuclear projects with third-generation AP1000 technology, developed by Westinghouse.
Chen said this agreement is strategically important for both Alstom and DEC as China resumes building nuclear plants and moves towards the third-generation technology.
"It is also in line with the Chinese government's commitment to steady growth in the sector under the current Five-Year Plan, with a top level of safety that fully meets the standards of the International Atomic Energy Agency," he said.
As curbing pollution has become a key part of efforts to upgrade the economy and move away from coal-fired plants, nuclear energy has become an important part of the country's energy mix to boost non-fossil fuel power.
Premier Li Keqiang pledged at the opening of the annual meeting of parliament last month to make greater efforts to change "the way energy is consumed and produced" through the development of nuclear and renewable energy, the deployment of smart power transmission grids, and the promotion of green and low-carbon technology.
"China will meet its target to install 5,800 GW capacity by 2020 at its current growth rate, but in a global context, it is still well behind other countries in terms of installed capacity," Chen said.
China has 20 reactors in operation, with an added 28 under construction, and more due to start construction, according to information from the National Energy Administration.