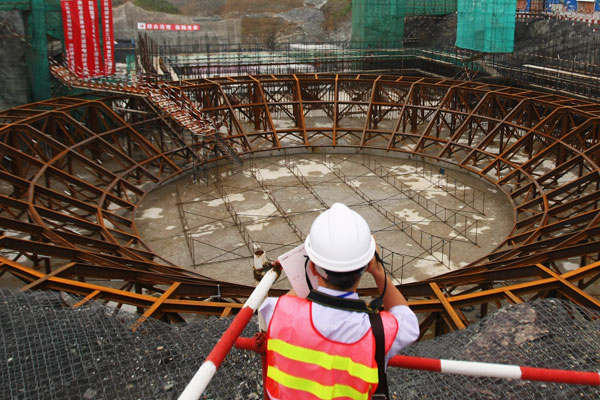 A construction site for a nuclear plant in Ningbo, Zhejiang province. Nuclearrelated businesses in Haiyan county, also located in Zhejiang province, had an output value of 17 billion yuan ($2.74 billion) in 2013. Provided to China Daily
Plan includes proposal to build industrial park in Zhejiang province
A delegation composed of 15 Canadian nuclear organizations will sign a memorandum of understanding with their counterparts in Haiyan county - home to the 130 square kilometer Haiyan Nuclear City - on Thursday for future cooperation in technology development.
The memorandum will include a proposal to build a Canadian nuclear industrial park, according to Ron Oberth, president of the Organization of Canadian Nuclear Industries.
Located in Zhejiang province, the county's nuclear industry had an output value of 17 billion yuan ($2.74 billion) in 2013. Based on the development of the Qinshan nuclear power station in Haiyan - the first designed and built by China - it has cultivated dozens of companies conducting related business including nuclear equipment manufacturing, servicing and construction.
Oberth told China Daily on Tuesday the industrial park will be invested in by both parties and the project may start construction in two to three years if it can receive approval from the related authorities.
"There is huge potential for Canadian nuclear companies to cooperate with the Chinese. The memorandum of understanding will set up a platform for 170 Canadian nuclear companies and 76 Chinese nuclear equipment and services companies to communicate better and cooperate further," said Oberth.
At present, Candu Energy Inc, a Canada-based nuclear technology company, is collaborating with the Chinese National Nuclear Corp to exploit Candu's unique fuel cycle advantage technology by converting the two existing Candu reactors in Qinshan Phrase III on the eastern coast of China to burn "natural uranium-equivalent" fuel comprised of recycled uranium, which will be much more environmentally friendly than the traditional reactors using processed uranium.
"The new technology will help China to extract up to 40 percent more energy from natural uranium compared with the traditional source, which is the light water reactor," said Reza Moridi, minister of research and innovation in Ontario.