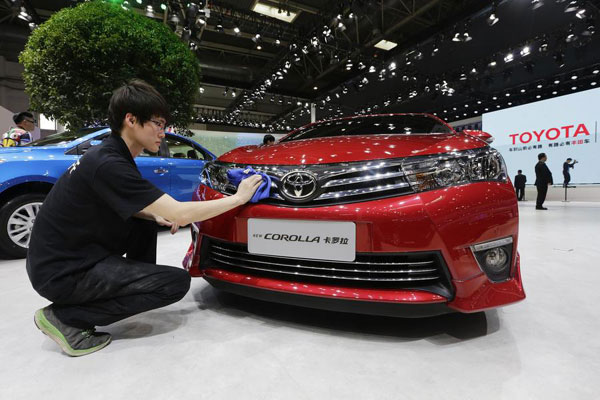 A man cleans a new Toyota Corolla car at Auto China 2014 in Beijing, April 20, 2014. [Photo/Agencies]
BEIJING - Toyota Motor Corp plans to make and sell hybrid versions of its Corolla and Levin sedans in China next year, fitting them with locally-made components, in its first bid to entirely manufacture gas-electric hybrids outside Japan.
The backdrop to Toyota's plans are efforts by foreign and domestic automakers to kick-start sales of
hybrid car
s in China, as the world's largest auto market warms to the vehicles in its efforts to cut pollution and reliance on fossil fuels.
Toyota, an industry leader in hybrid vehicles, already makes the Prius and Camry hybrids in China, but has to import key parts, such as hybrid systems, making it tough to generate volume due to high import tariffs.
In 2015, the Corolla and Levin hybrid sedans will carry made-in-China batteries, hybrid transaxles and inverters, Executive Vice President Yasumori Ihara, said at the Auto China car show in Beijing on Sunday.
Ihara, who oversees Toyota's emerging markets business, also said the world's largest carmaker aimed to double auto sales in China to around 2 million vehicles a year, but gave no time frame for the target.