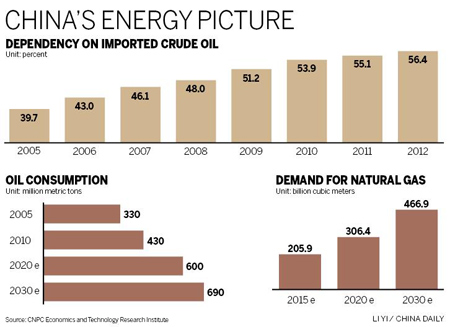 The International Energy Agency's newly released outlook echoed the trend, saying that India will become the country with the fastest growth in petroleum use after 2020.
The outlook also mentioned that renewable energy will embrace its rapid development in the next decades.
By 2035, renewable energy will account for half of power generation globally with China owning the largest share of new renewable power generation, according to the outlook.
In addition to renewables, Li said a boom in natural gas use will also be behind the slower growth in petroleum use.
It is expected that the number of vehicles using natural gas as fuel will reach 2.1 million in 2015 in China and continue to grow to 3.2 million in 2020, which will result in a soaring use of natural gas in the following years, according to Dai.
"China has a huge potential for natural gas use in the transportation sector as the number of clean energy vehicles continues to grow," he said.
Dai estimated that China's natural gas consumption in the transportation sector will reach 32 billion cubic meters in 2015 and grow to 56 billion cubic meters in 2020, which means it will replace 26 million tons of petroleum in 2015 and 46 million tons in 2020.
China has witnessed an increase in natural gas use among the primary energy mixture.
Between 2000 and 2012, China's natural gas use grew from 900 million cubic meters to 16.6 billion cubic meters.
The transportation sector accounted for only 4 percent of total natural gas use in 2000. The figure grew to 11 percent in 2012.