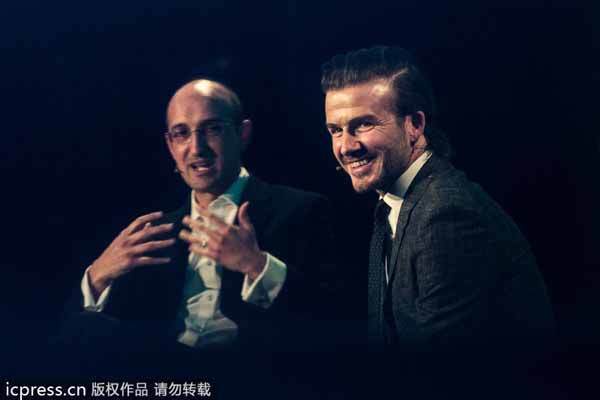 The Times Q&A with David beckham at the National Football Museum, Manchester, Britain - Dec 10, 2013.[Photo/icpress.cn]
The student has become the master.
David Beckham, known for both for his admired physique and his prowess as a soccer player, admitted last night that he can't keep up 11-year-old son Romeo when they go for morning runs. In fact, Romeo recently surprised the iconic footballer with a nice, early wake up call.
"At 6 a.m. on the dot, I felt a tug on my arm and I heard, 'Daddy, it's time to get up'," Beckham told the London Times. "He's one of those annoying runners who always want to be one step in front of you. We ran three and a half miles and the third mile was the quickest of all of them. I was breathing hard. He was a step ahead of me the whole way."
Even though he lost, Beckham, 38, admits he was very proud of his son.
"My drive must have rubbed off on him," he said.
But Romeo and his brothers Brooklyn, 14, and Cruz, 8, better watch out, because losing isn't something their father plans on getting used to.
"I just like to win, even if it's playing in the garden with my kids," he said. "I take it easy on them to a certain point, but they have got to learn to win. They do actually win most of the time, certainly when there are three of them against me. My parents had a great work ethic. It's about sacrifice and dedication."
With Beckham calling it quits from soccer in May, everyone wants to know his next move. He says coaching might not be the right fit.
"I'm passionate about coaching kids; but being manager of a team, I don't think that will ever happen," he said.