Medical insurance poised to boom for both Chinese and foreign staff
Margaret Ferte spends hours every day on her ever-expanding website, expatmedicare.com, which she registered in Shanghai three years ago to serve the expatriate community's increasing need for medical insurance.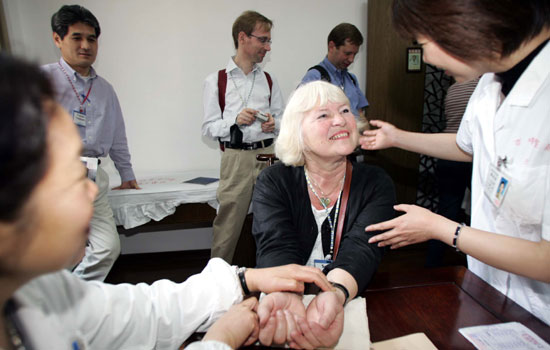 An European woman consulting Chinese doctors at a hospital in Hangzhou, Zhejiang province. China's growing number of expatriates has created an emerging high-end private healthcare business market for insurers at the same time as medical and health insurance are being promoted through the country's medical reform. [Photo/China Daily]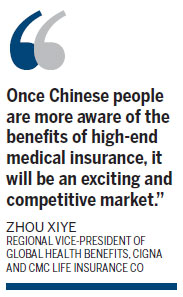 It is a sign of the rising significance of the sector.
The website gives a comprehensive introduction to international medical insurance, including benefits, premiums and healthcare tips. It has two hotline numbers to attract potential clients from the Chinese mainland and Hong Kong.
"We work closely with clients to review their individual needs and, from there, we research the market for the best solutions to fit the demands. Our service also includes claim management. That is helping customers with their medical claims," she said.
Ferte links insurance providers with buyers but the brokerage is paid by insurance firms rather than individual clients. "Our service is free so our advice is independent and non-biased," she said.
Built from scratch, the startup has grown quickly with 10 staff servicing about 500 expat clients in China and working with 10 medical insurance providers across the country.
Over the past decade, the growing number of expatriates in China has created an emerging high-end private healthcare business market for insurers at the same time as medical and health insurance are being promoted through government reforms.
However, it is only relatively recently that overseas companies have entered China's private health and medical insurance market, either by acquiring equity stakes or in forming partnerships with leading Chinese insurers.
Such deals include South Africa-based Discovery Holdings acquiring a stake in Ping An Health Insurance Co of China, a subsidiary of Ping An Insurance (Group) Co of China in 2009. Also, Germany-based DKV Group, part of Munich Re, jointly set up PICC Health Insurance Co with the largest Chinese nonlife insurer, People's Insurance Company of China in 2005.
In August, Allianz China General Insurance Co, a wholly owned subsidiary of global insurance and asset management provider Allianz Group, entered China's health insurance market by forming a joint venture with Allianz Worldwide Care, the medical insurance arm of the corporation.
Based in Dublin, Allianz Worldwide Care specializes in providing international health insurance for employees and their dependents worldwide. The company structure, product design and support services have evolved specifically to anticipate and meet the health insurance needs of corporate clients.
According to Ron Buchan, chief executive officer of Allianz Worldwide Care, the firm aims to offer a range of international healthcare plans designed to appeal to both international and local corporate groups in China.
The point is there is a strong and increasing demand for quality international health products, Buchan said.
"Traditionally in the Asia-Pacific region, Singapore and Hong Kong were the two chosen hubs for multinational corporations' headquarters but the past five years have seen people moving their headquarters to Beijing and Shanghai," he added.
He said the Chinese business landscape will entertain more joint venture companies and many Chinese companies will be sending their people abroad, increasing demand in the sector.