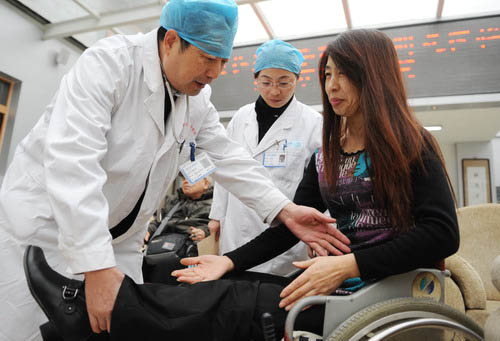 A doctor examines a patient at Beijing Wanshoukang Hospital. The State Council on Wednesday said that doctors can now work in more than one medical institution and qualified private clinics will be allowed into China's public medical insurance system. [Photo/China Daily] 
Insiders and experts question if policies can be thoroughly implemented
China's new medical reform plan re-emphasizes encouragement of private investment in the medical care industry, though insiders and experts doubt whether the policies can be thoroughly implemented.
The State Council on Wednesday issued China's 2012 medical system reform program, which includes policies for domestic and overseas private investors, such as introducing qualified private clinics into China's public medical insurance system, allowing doctors to work in more than one medical institution, increasing charges for medical services and allowing charitable organizations and commercial insurance businesses to open hospitals.
Private clinics' entry into the nation's public medical insurance system helps private ones expand their business and get reliable income from the nation's public medical insurance pool.
The policy is convenient for patients, who can get treatment in their neighborhoods, and diverts patients from key hospitals, according to Hong Mi, vice-director of the National Institute of Hospital Administration, which is affiliated with the Ministry of Health.
Allowing doctors to work in more than one hospital will facilitate private medical institutions to share veteran practitioners with big State-owned hospitals.
A lack of experienced doctors has been a bottleneck for the development of the private medical sector, as doctors were limited to working in one place and good doctors wanted to stay in State-owned facilities that offer prestige and retirement benefits.
The policy said State-owned hospitals should give up dependence on drug sales. They will be allowed to increase charges for diagnosis, operations, hospitalization and other services, and will have to sell medicines at their purchase prices.
"That will make our private hospitals compete with the State-owned ones," said Yan Yubin, founder and president of Xi'an Jiren Hospital, one of the top three comprehensive hospitals by fixed assets in Shaanxi province.
Private hospitals generally charge more for operations and services than State-owned hospitals in China.
Charity organizations and commercial insurance companies can use their advantages to operate medical institutions, said Wang Guochang, director of the Tsinghua Cambridge Investment Management Center. Charity organizations can do better in the non-profit sector, and the latter can combine their businesses with healthcare services.
The new program also said the nation will further improve the commercial medical insurance industry, making it a supplement to the public medical insurance system, and meet the diversified needs of the public.
"The policies look rather good, but I worry if these can be well implemented or not," said Xu Liyan, a medical analyst at Samsung Economic Research Institute.