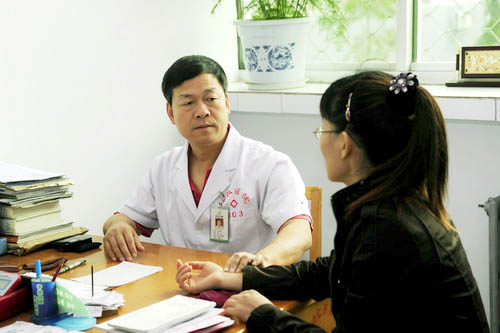 Yan Yubin (left) makes a diagnosis at Xi'an Jiren Hospital. Over the last 10 years, the hospital's patient visits increased by 18 to 20 percent annually to exceed 100,000 last year. [Photo/China Daily] 
Private-hospital owner keeps costs down but service on the up
Yan Yubin said he has been closely following government policies, a practice that may account for his success.
Yan, the owner of Xi'an Jiren Hospital, was one of the first private hospital operators in China and one of the few able to maintain fast growth. He has ambitious plans to continue expansion.
"The government is currently encouraging private investment in the medical care sector and strengthening medical services in the grassroots market. It's really good news. I am expanding my hospital - a new building and more diversified services," Yan said.
Founded in 2001, Xi'an Jiren Hospital is located in Hu county, around a one-hour drive from downtown Xi'an, Shaanxi province. The six-story building, while old looking on the outside, has 300 beds and 350 employees, of whom 282 are medical care practitioners. It is currently providing comprehensive medical services for more than 1 million people in Hu county and neighboring rural areas.
"Construction of our new building is scheduled to start in May and be completed next June. It will add 500 beds for us," said Yan. "In addition to the current traditional department every hospital has, I will open rehabilitation and traditional-Chinese-medicine-styled maternity and gynecology divisions."
The National Development and Reform Commission issued policies last May and December encouraging private domestic and overseas investors to set up medical institutions, including hospitals, clinics and health service centers at various levels. At the same time State-owned hospitals can outsource some of their services to them.
Under the 12th Five-Year Development Plan (2011-15) for the medical industry, hospital beds in private medical institutions will be available for 20 percent of the nation as a whole by 2015. At the same time, the non-public institutions are expected to provide services for 20 percent of the nation's patients.
China now has more than 8,000 private hospitals and clinics, mainly small in size and specializing in certain areas such as dental care, tumor treatment and maternity. They account for 36 percent of the total number of medical institutions across the nation. Hospital beds at these private institutions only make up 8 percent of the total and they treat fewer than 10 percent of all patients, according to the Chinese Hospital Association.
"The government has reiterated its support for private investment (in the medical care sector) so I must follow its line," said Yan, 51, who has been a doctor for 12 years. "What the government encourages must be what the Chinese people need. Following the policies means I can do something to help the government satisfy the people and, meanwhile, make my life better."
Startup business
Born into a rural family with nine sisters and brothers in 1961, Yan's childhood was full of struggle in the face of poverty. Things turned worse when he was affected by poliomyelitis at the age of 2. He dropped out of school after primary education because the middle school was too far from his home and transportation in the mountainous area was a challenge even for the able-bodied. Yan started educating himself at home about traditional Chinese medicine, a subject his parents chose for him.
Thanks to years of hard study and repeated requests, Yan, despite being handicapped and lacking a full education and official qualifications, was specially approved by the local government to become a doctor in 1987 at a county-level hospital, where he obtained knowledge about treatment and how to operate a hospital.
"I really thank the government and the people who helped me get the job. I have been seeking a chance to repay them," he said.
Based on experience and scientific research, Yan developed a traditional Chinese medicine for treating sterility that was awarded a national patent in the late 1990s. He sold it for 40 million yuan ($6.3 million) - his first pot of gold - and considered opening a private hospital because the government was encouraging startups amid a market-oriented reform and medical care in rural areas was in short supply.
Yan bought land from the county government and built the six-story hospital for nearly 20 million yuan. He purchased equipment and invited professional health workers to join him using another 17 million yuan. "Buying the land and equipment and infrastructure construction went smoothly thanks to government support. The most difficult thing was recruiting senior and high-quality professionals," Yan said, adding that he visited a senior physician, who was working in a big State-owned hospital, nearly 20 times to convince him to move to Xi'an Jiren. The first group of 20 professionals were mainly from key hospitals. All were gifted an apartment neighboring the hospital and offered monthly payment of three times their previous salary.
Although everything seemed well prepared, attracting patients to Xi'an Jiren was still a problem because they were accustomed to visiting two State-owned hospitals in the county town at that time.
"We have senior professionals and high-quality equipment - all examination devices were purchased from international giant GE Healthcare. On top of this, what could make us more competitive were prices and services," said Yan.