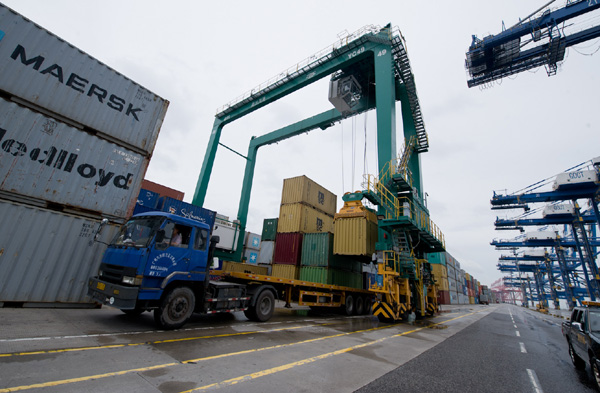 Containers being loaded at the Nansha Port in Guangzhou, Guangdong province. [Photo/Xinhua]
China's foreign trade saw stronger-than-expected rebound in September, indicating improved external demand and stabilization of the sharp growth deceleration in the previous months, customs data showed on Monday.
Exports in September expanded by 15.3 percent year-on-year to $213.7 billion, beating analysts' expectation of 12 percent. Imports also rose 7 percent from the previous year to $182.7 billion, compared to the estimated 2 to 4 percent fall.
Analysts called the latest trade data the "big upside surprise", saying that the significant rebound in trade will help ease concerns of the weakness of China's economic growth. It also reflects that recent measures by the government to boost growth and property sales have been effective, they said.
"The September trade data is surprisingly positive, especially the imports activity which has recovered to 7 percent growth following the decrease for two consecutive months. These will help ease the market's pessimistic mood about China's economy," said Niu Li, director of the macro projection department with the State Information Center.
The continuous recovery of the US and European economy have also contributed to the unexpectedly good performance of China's exports and the trend is likely to continue in the fourth quarter, analysts said.
"Looking ahead, we expect export growth will likely continue to post double-digit growth in Q4 on the back of improving external demand and a favorable base," said Chang Jian, chief China economist with Barclays Plc.
Chang said that the recovery in imports suggests that the sharp growth deceleration in August has been arrested and it is also attributable to re-stocking of commodities and suggests improving investment demand in the wake of the government's latest measures to support property sales and developer financing.
"These measures can help sustain double-digit property investment growth in coming months," he said.
Meanwhile, China's trade surplus receded from the high in August to $31 billion. However, the value still more than doubled the level from the previous year, according to customs data.
"This will ease the short-term pressure of yuan's appreciation and will increase the possibility of monetary loosening," said Jiang Chao, a researcher with Haitong Securities.
While trade has substantially improved in September, market watchers were divided on whether the positive trade data could indicate an overall bullish picture of the Chinese economy.
"The imports growth was mainly driven by processing trade which could be boosted by improved exports. However, imports growth of general trade fell 2.5 percent from the year earlier, which means that domestic demand remains weak," investment bank China International Capital Corporation Ltd said in its report.
Zheng Yuesheng, the spokesman of the General Administration of Customs, said that while China's foreign trade has turned better quarter by quarter, meeting the whole year target of 7.5 percent growth in trade is still a very challenging task.