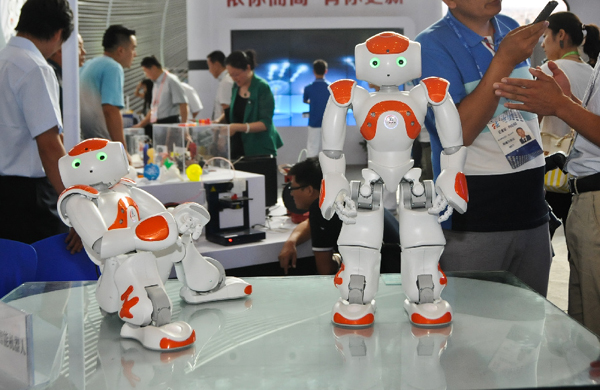 Photo taken on Sept 3 shows the robots at China-Eurasia Expo. The fourth China-Eurasia Expo, opened on Sept 1, 2014 in Urumqi attracted more than 25,000 participants from China, 60 foreign countries and four international organizations. [Photo/Xinhua]
URUMQI - The fourth China-Eurasia Expo, which concluded Saturday in Urumqi, saw more than $6 billion worth of foreign trade contracts signed with Chinese companies.
The figure was a 7 percent year-on-year increase compared with that in last year, said the expo organizer.
Hosted in Xinjiang Uygur autonomous region, the expo attracted more than 1,300 different companies, business delegates and officials from 60 different countries.
Between domestic companies, about 287.5 billion yuan ($46.8 billion) worth of contracts were signed, an increase of 3.5 percent to the year of 2013.
A total of 13 forums and 120 investment and trade events were held during the six-day expo.
The expo also attracted about 23,000 domestic and 5,000 foreign business people as well as an audience of more than 150,000 people.
Late on Friday, 48 mayors from 25 countries including China, Australia, Iran, Malaysia, Turkey, Kazakhstan and Pakistan jointly released a declaration in Urumqi, welcoming the growing momentum in regional cooperation and integration in a bid to boost the the Silk Road Economic Belt through transport, trade, investment, employment and cultural exchange.
The Silk Road economic belt, proposed by Chinese President Xi Jinping during his visit to Central Asia in September 2013, involves over 40 Asian and European countries and regions with a combined population of 3 billion.
It eyes the cultural revival of the Silk Road, which historically links China with Central Asia and Europe, as a way of developing political and economic ties.
The expo was upgraded from a regional trade fair, the 19-year-old China Urumqi Foreign Economic Relations and Trade Fair, in September 2011 when the first international expo was held.