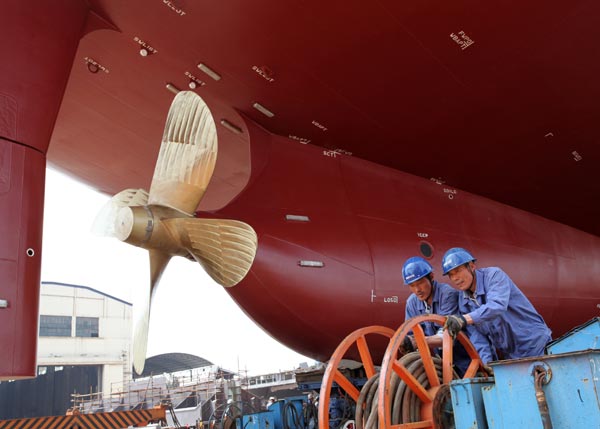 Workers undertake safety checks of a 35,000-ton bulk carrier at a shipyard in Nanjing, Jiangsu province. [Photo/China Daily]
BEIJING - Chinese shipbuilding companies received more orders but saw shrinking profits in the first seven months, according to the latest data by the China Association of National Shipbuilding Industry (CANSI).
As the industry sails into the choppy seas with overcapacity and fiercer competition, the market outlook is "not optimistic", the CANSI said, citing fewer ship transactions and limited price hikes.
New shipbuilding orders jumped 42.5 percent from last year to 45.73 million deadweight tonnes (DWT) during the first seven months, while completed shipbuilding volume fell 21.5 percent to 20.66 million DWT, according to CANSI.
By the end of July, Chinese shipbuilders had incomplete orders totaling 153.45 million DWT, up 36.4 percent year on year.
China's shipbuilding industry heavily relies on external demand for growth. Ships delivered overseas in the first seven months dropped 11.9 percent annually to 18.12 million DWT , or about 88 percent of total completed volume.
In the January-July period, the industrial output of China's 87 large shipbuilders totaled 229.7 billion yuan ($37.2 billion), up 9.6 percent from a year ago.
However, combined profits of those shipbuilding companies slumped 8.5 percent from a year ago to 4.07 billion yuan in the first seven months, according to CANSI.