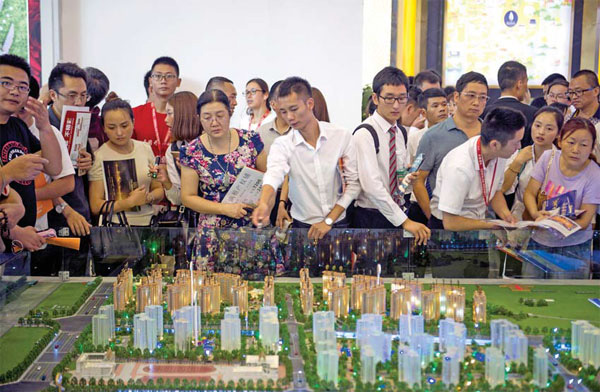 Prospective buyers attend a real estate trade fair in Chengdu, capital of Sichuan province, on Oct 3, 2016. [Photo/For China Daily]
The property sector remains an important driver of China's economic growth, contributing 8 percent of GDP, NBS official said on Wednesday. A slew of measures to cool down the property market was released at the beginning of the month and were "timely and effective" to ensure the healthy development of the property sector, said Sheng Laiyun, spokesman of National Statistics Bureau.
Measures to cool down the property market would bring short-term downward pressures to some first and second tier cities, but their impact on overall economic growth will be minimal. "The measures are only targeting speculative behaviors," he said.
Sheng made the remarks after the financial data was released on Tuesday, which showed that money supply and credit growth can be regarded as reflecting the strength of the economy.
In the first three quarters, China's new housing loans issued to individuals rose to 3.63 trillion yuan, or 35.7 percent of new loans, according to Ruan Jianhong, head of the statistics and analysis department at PBOC.
The central bank data showed that M2, a broad measure of the money supply that covers cash in circulation and all deposits, grew by 11.5 percent year-on-year in September, while M1, a narrower measure of the money supply, rose 24.7 percent year on year. China registered 6.7 percent growth rate in the third quarter, according to NBS.