Global luxury market continued to record slowdown in 2016 as major conglomerates, such as LVMH, Swatch and Hermes, reported only single-digit or even negative sales growth, according to a report on Chinese shopping abroad released by Fortune Character Institute on Oct 12.
Zhou Ting, chief researcher of the report, said that over the past five years, high-end Chinese consumers have lowered their expectations on luxury items year by year. This year, only 17 percent respondents said they planned to increase luxury spending, while in the year 2011 it was 41 percent.
However, Chinese consumers still account for nearly half of the world's luxury spending and the report predicts that they would spend a total of $120.4 billion on luxury items this year, up by three percent, much lower than 10 percent achieved last year. A total of 77 percent of these purchases will be made abroad.
Let us check the top 10 places where an individual consumer spends most money in terms of per customer transaction.
No 10 The Republic of Korea, 5,500 yuan($816.99) per customer transaction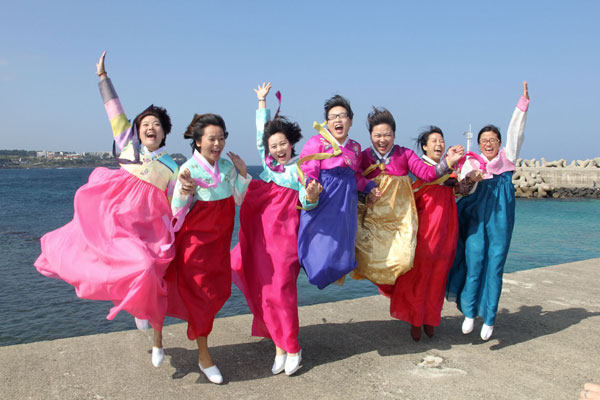 A group of Chinese women dress in Korean attire while visiting Jeju Island.[Photo/China Daily]