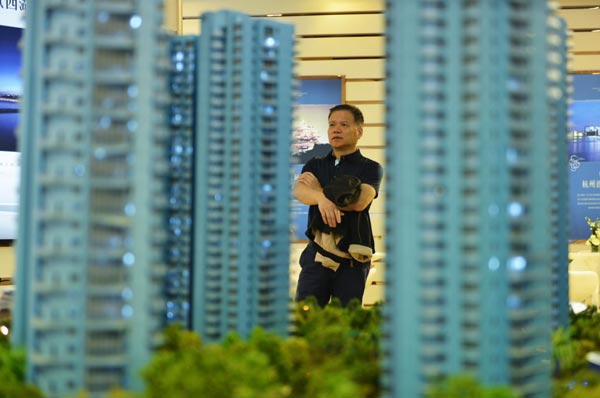 A man examines property models at a housing sales center in Hangzhou, capital of Zhejiang province. [Photo/China Daily]
BEIJING - It is expected that during an upcoming key economic meeting Chinese officials will introduce measures to cut housing inventories.
De-stocking the property market will likely be discussed at the upcoming Central Economic Working Conference, which sets economic targets for the coming year, a source told China Business News.
The measures are not expected to boost the real estate market nor set quantitative de-stocking targets for specific regions.
"The most important thing is to reactivate the property sector to help with its liquidity," the source said.
The housing market experienced a downturn in 2014 due to weak demand and a supply glut. This continued into 2015, with both sales and prices falling, and investment slowing.
According to data from the National Bureau of Statistics, the unsold home inventory hit a record 686.3 million square meters by the end of October, up 17.8 percent from the previous year.
Officials have already showed resolve to address the country's housing woes. Destocking the property market will be one of the government's main tasks, President Xi Jinping told a meeting of the Central Leading Group for Financial and Economic Affairs in November.
Premier Li Keqiang also told a cabinet meeting that the government should overhaul China's household registration system to encourage more rural residents to settle in cities and boost house sales.
Besides existing stimulus measures such as cutting interest rates and easing deposit requirements, measures such as transforming commercial housing into affordable housing are also expected next year, the source said.