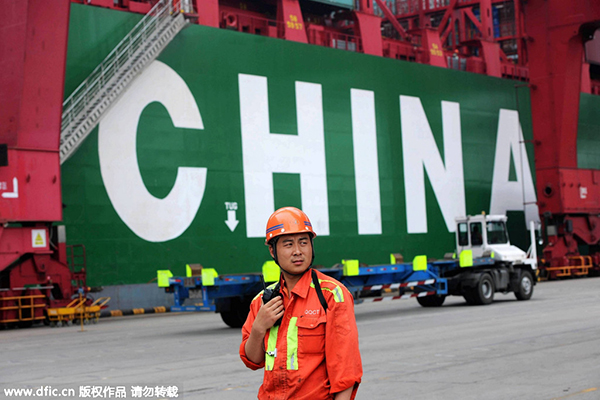 A stevedore works at Qingdao port in Shandong province, July 1, 2015. [Photo/IC]
BEIJING - China's foreign trade dropped 4.5 percent year on year to 2.16 trillion yuan ($337 billion) in November, the ninth-consecutive monthly decline, official data showed Tuesday.
The level of decline in November significantly contracted when compared with the 9 percent year on year plunge registered in October, helped by increased electrical exports, data from the General Administration of Customs (GAC) showed.
Exports dropped by 3.7 percent, a fifth straight month of decline, to 1.25 trillion yuan and imports fell for the 13th consecutive month by 5.6 percent to 910 billion yuan. The trade surplus expanded by 2 percent to 343.1 billion yuan.
In the first 11 months, foreign trade dropped 7.8 percent year on year to 22.08 trillion yuan. They were separated into 12.71 trillion yuan for exports, down 2.2 percent; and 9.37 trillion yuan for imports, down 14.4 percent. Meanwhile, the trade surplus surged 63 percent to 3.34 trillion yuan.
China reported 3.16 trillion yuan worth of trade with the European Union, its largest trade partner, in the first 11 months, down 7.7 percent year on year; 3.15 trillion yuan with the United States, the second-largest trade partner, up 1.9 percent, according to the GAC.
Trade with ASEAN, the third-largest trade partner, and the fifth trade partner Japan, dropped 2.1 percent 10.4 percent year on year, to 2.6 trillion yuan and 1.57 trillion yuan.
Foreign trade of private firms dropped 1.8 percent year on year in the first 11 months to 8.11 trillion yuan, accounting for 36.7 percent of China's total trade volume during the period. The weighting was 2.2 percentage points more than the same period last year. Exports of private firms rose 2.2 percent year on year to 5.7 trillion yuan.
In contrast, state-owned enterprises witnessed a sharp foreign trade fall of 12.9 percent year on year to 3.65 trillion yuan, accounting for 16.5 percent of the country's total during the period.
Zhang Shuyu, a researcher with the University of International Business and Economics, said "low commodity prices, sluggish external and internal demand were to blame for the trade decline."
Electrical exports shine
Zhang highlighted increased mechanical and electrical product exports during the first 11 months, quoting media reports that China had overtaken Japan as Asia's largest exporter of high-tech products in 2014. Of all Asian countries, China's share of high-tech exports hit 43.7 percent last year.