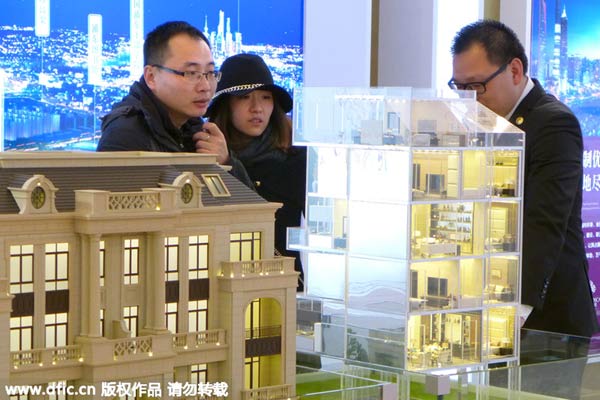 Chinese homebuyers look at models of residential apartment buildings during a real estate fair in Shanghai, December 13, 2014. [Photo/IC]
Rising inventory of unsold units putting damper on investment
A top Chinese think tank said that homeowners should be allowed to use their mortgage interest payments to lower their tax liability, and that costs associated with buying a home be slashed to support the market.
The report, released on Thursday by the National Academy of Economic Strategy under the Chinese Academy of Social Sciences, echoed recent calls for using mortgage interest as an individual income deduction for tax purposes to encourage home purchases.
Other measures put forward by the CASS to draw down the country's large housing inventory include subsidies for first-time homebuyers and slashing a number of taxes related to home purchases.
As of April, sellers who had held their homes for at least two years are exempt from a 5 percent tax on the sale price, a reduction from the previous five-year minimum.
The CASS has now suggested the minimum time requirement be scrapped, and that the existing one-time deed tax, which fluctuates based on factors such as the size and number of homes owned, should be lowered to 1 percent. It also suggested that homebuyers be exempted from individual income tax.
The proposals came as mounting inventories weigh on property sales, dampening the willingness of developers to invest. President Xi Jinping has called for "a cut in housing inventory"-stoking hopes that a barrage of stimulus measures are on the way.
According to the report, there were 437 million square meters of finished homes as of October, with 3.57 billion sq m of unfinished homes. Excluding inventory that could be sold in a reasonable time, there are 2.1 billion sq m of excess finished and unfinished homes that might take six and a half years to sell out, the report said.