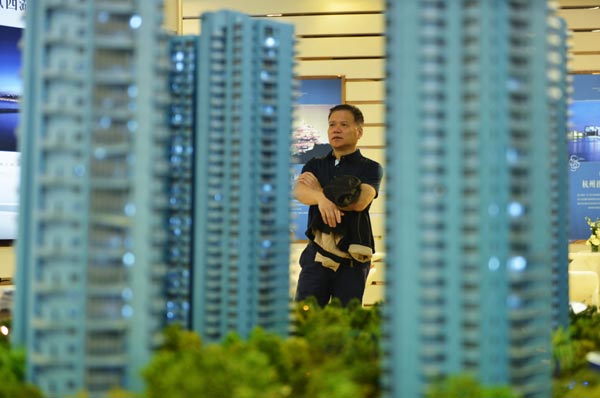 A man examines property models at a housing sales center in Hangzhou, capital of Zhejiang province. [Photo/China Daily]
It's possible that home price may suffer a blow starting from the second quarter next year, said Chinese Academy of Social Science in a report released on Thursday.
Despite recent pickup supported by owners moving up the property chain, commercial housing sales remain sluggish, with inventory pressure hardly relieved, said the report.
The institute proposed more interest rate cuts and increased coverage of provident fund among low- and middle-income residents.
Destocking and keeping home price at a reasonable level should remain primary targets for developers, while they should also watch out radical market fluctuation, prevent default and resume property investment to an ordinary level, according to the report.
The recovery of housing market lacks strong foundation, and the diverging trend is set to continue in 2016, said the institute.
The country saw new home prices in 100 major cities rise for a fourth consecutive month in November, according to a survey by independent research agency China Index Academy, with average price per square meter up 0.46 percent month-on-month to 10,899 yuan ($1,704).