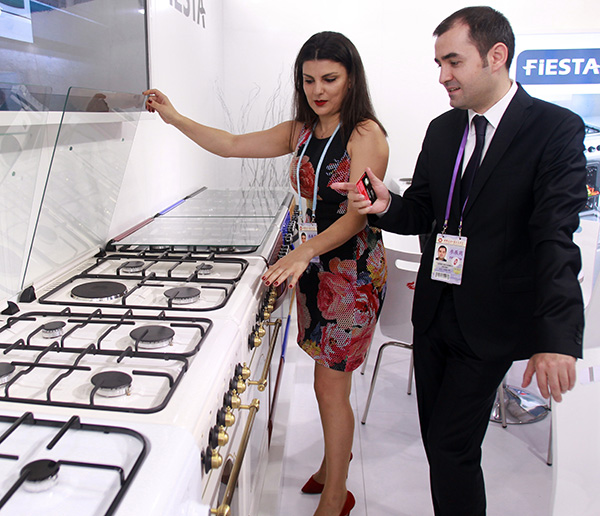 A Kent-Fiesta Ltd representative (left) introduces the Fiesta-branded gas stoves to a potential buyer at the ongoing Canton Fair in Guangzhou. [Photo/China Daily] 
Companies that are attending the Canton Fair are focusing on mid and higher levels of the Chinese market, according to their chiefs. They spoke during the ongoing trade promotion event.
"When Chinese consumers consider buying imported products, they usually expect higher technology and better quality," said Julian Baseley, chief executive of Ewbank, a British home-cleaning equipment manufacturer. The company's main products are vacuum cleaner and floor polisher.
"We have 135 years of history in developing the most efficient home cleaners with high technological values. It is the details, such as minimum noise, sleek design and energy saving, that set us apart from the general products in the market," said Baseley.
At the Canton Fair, Ewbank demonstrated the power of its vacuum cleaners. Its staff showed one machine can suck up a 6-kilogram bowling ball.
Ewbank is now looking forward to finding dealers for its products in China.
Similarly, Hurom Co Ltd, a South Korean juicer manufacturer, participated in the fair to explore business expansion in China.
Sasha Lee, Hurom's manager of overseas sales, said the company has been a regular at the fair. "Chinese people are paying more attention to a healthier lifestyle. This is our opportunity: to offer them a juicer that makes delicious juice while still keeping the vital nutrition."
Hurom's patented slow-squeeze technology protects nutrition in the fruit during the processing of juice extraction, its staff told visitors to the fair. "You can see that the juice from a Hurom juicer has a deeper color, which means denser nutrients," said Lee.
Lee also stressed that Hurom products have elegant design that makes them a pleasure to use and to behold. Horum is aiming at the high-end market where picky consumers value both quality and looks, she said.
Universal Group, a home appliance manufacturer based in Damascus, Syria, is also looking to find partners in China that can help it better channel its products to Chinese consumers.
"We have more than 20 years' experience in home appliance research and development," said Hesham Ayad, international marketing manager of Universal Group.
"Even though Syrian brand is not well-known in China, we believe that the quality of our products will gradually be recognized by mid-and high-end consumers."
The company produces a full range of home appliances. It exports to West Asia, the whole of Africa, most of Europe, Australia, and Russia.
"The civil war in Syria has affected our production and sales. But peace is definitely going to come one day and business has to continue. We've been planning to come to China for many years and the plan is not to get disrupted by social instability back home," said Ayad.