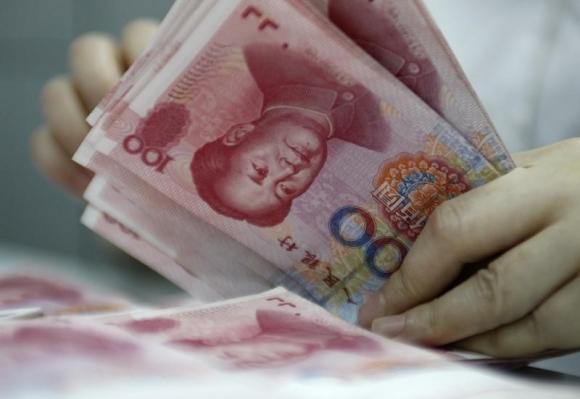 An employee counts yuan banknotes at a bank in Huaibei, Anhui province June 22, 2010.[Photo/Agencies]
The moves of China's central bank to remove controls on deposit interest rates and lower the one-year benchmark interest rates on Friday are designed to let the market decide financing costs, marking a significant step in overall economic reform, experts said.
The announcement, by the People's Bank of China, came as the bank eliminated the 50 percent over benchmark upper limit for deposit rates as it did for lending rates two years ago.
Now commercial banks can set both their deposit and lending rates freely.
It was the sixth benchmark interest rate cut by the central bank in one year-a reduction of 25 basis points to 4.35 percent. The benchmark rate for one-year bank deposits was reduced by the same margin to 1.5 percent.
Before that, the benchmark deposit rate was 1.75 percent, and commercial banks were allowed to set their own one-year deposit rates as high as 2.625 percent, or 50 percent above the benchmark.
Commercial banks' average deposit rates were about 20 percent higher than the benchmark before Friday's move.
Li Bo, head of the central bank's Monetary Policy Department, said, "Conditions are ripe now to break the last line of the deposit rates control."
The current low interest rates provide a good opportunity for the reform because, in the short-term, it is possible to see rises of the deposit rates for commercial banks, Li said, "but the interest rate cut can help to ease the pressure" as there will be less room for further interest rate cuts.
Wang Tao, chief economist for China at UBS AG said, "The full removal of the deposit rate's ceiling marks a de jure completion of China's interest rate liberalization, though we think it will take longer and more effort for interest rates to be de facto fully determined by the market."
"We think the latter requires the breaking of widespread implicit credit guarantees, reforms in the SOE and financial sectors and the development of a more price-based monetary policy regime," she said.
The nation has been undergoing financil reform since 1993.The core reform is a market-oriented interest rate system.
Premier Li Keqiang addressed this in the annual Government Work Report in March this year to accelerate the interest rate liberalization process.
After the reform, interest rates will affect the macroeconomic environment and effectively allocate resources in the financial market, economists say.
Zhu Ning, a professor at Shanghai Jiaotong University, said interest rate liberalization will support the development of competitive and high-quality enterprises while facilitating industrial upgrading and the wider economic restructuring.