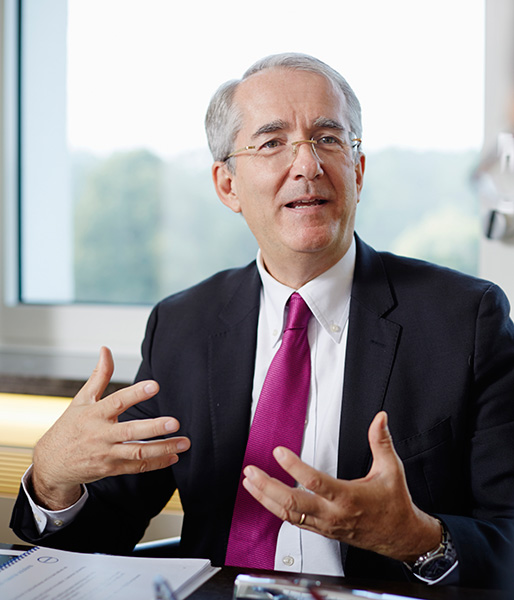 Patrick Thomas, chairman and chief executive officer of Covestro. [Photo/China Daily]
The firm's new materials can achieve higher energy efficiency and reduce CO2 emissions, says its chief
Patrick Thomas, chairman and chief executive officer of Covestro from the Bayer stable, believes the future of plastic in China is bright as economic growth still remains robust albeit slower.
He heads a company that was spun from the Material Science business of German chemicals and pharmaceuticals giant Bayer. "China continues to be strategically important for us and we are also well-positioned to further contribute to the market."
As China moves into a more mature phase of its economic development, there will be more business opportunities that call for sustainable approaches and solutions, said Thomas.
"The chemical industry in China is at a crucial point now and should join forces to tackle these challenges, including loss of social trust in the industry, intensified competition and a stricter regulatory environment," he said.
"For our part, we will continue to promote collaboration within the industry and along the value chain for a powerful voice. At the same time, we shall support government priorities as well."
Covestro became a legal entity and an independent company on Sept 1. It went public soon after, listing on the Frankfurt bourse. Bayer intends to float Covestro on other stock markets by mid-2016.
The name "Covestro" is a combination of words that reflect the identity of the new company, he said. The letters "C" and "O" come from COllaboration, while "V", "E", "S" and "T" signify the company is well inVESTed in state-of-the-art manufacturing facilities. The final letters, "R", and "O", show the company is stROng, in innovation, in the market and with a strong workforce.