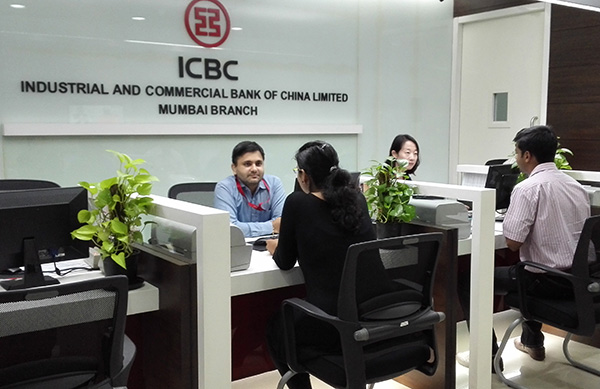 ICBC offers comprehensive services to Chinese corporations that intend to invest in India. [Photo/China Daily]
ICBC takes the lead in making life easier for overseas units of Chinese companies
Just four years after its entry into India, Industrial and Commercial Bank of China Limited, the country's largest State-owned lender by assets, is reaping rewards.
"India is a market full of potential for Chinese entrepreneurs," said Zou Xin, deputy general manager of ICBC's investment banking department.
Small wonder, as India opens its doors further to foreign investors, a growing number of Chinese corporate majors are rushing in.
Zou said geopolitics, low labor costs, investor-friendly taxation policies and business-friendly environment are key factors that influence outbound investment decisions. "India has improved greatly in terms of geopolitics, and its closer partnership with China has taken effect. With a huge population and a high level of education, India offers a large foundation of business opportunities for our labor-intensive companies."
ICBC offers comprehensive services to Chinese corporations that intend to invest in India: settlements, financing and investment consulting services, preliminary market research, tax environment analysis, and assistance in company registration.
Many Chinese corporations have difficulty in obtaining loans for their overseas subsidiaries when they expand internationally because they do not have a credit history in other countries. So, ICBC helps overseas subsidiaries indirectly by issuing guarantees to financial institutions that finance them.
ICBC's investment banking department also helps Chinese companies investing more than $400 million in India find the right projects. Since the opening of ICBC's Mumbai branch four years ago, 11 Chinese companies have received 660 million yuan ($104 million) in loans from the bank for investment in India.
Hong Qing, chief executive officer of ICBC's Mumbai branch, said the bank is highly optimistic about India's future because the country is politically stable and has a huge market demand, as well as a large and young population.
"India wants to improve its infrastructure, develop industrial parks and implement (Prime Minister Narendra) Modi's 'Make in India' initiative. Chinese corporations are familiar with all these areas and have distinct advantages," Hong said.
Chinese entrepreneurs should take bold decisions to expand their business into India, he said.