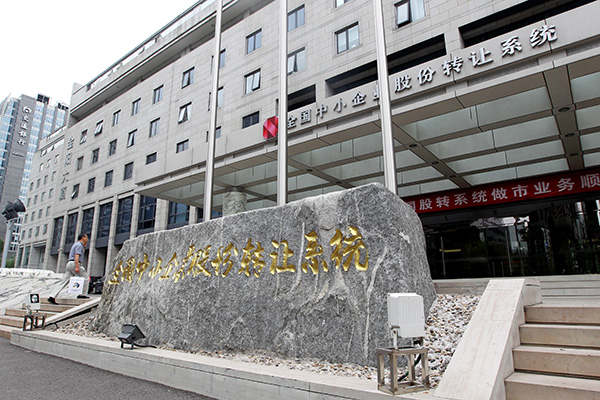 The National Equities Exchange and Quotations is better known as the "new third board". [Photo/China Daily] 
Some 6,000 firms may list on NEEQ by the year end, but stricter rules are seen as key
The number of companies listing on the Beijing-based National Equities Exchange and Quotations, has surged of late, raising the probability of the regulator rolling out new rules.
The electronic share trading system, better known as the "new third board", seemed to have stolen the limelight from the stock exchanges in Shanghai and Shenzhen as smaller companies, especially the cash-strapped startups, have flocked to it.
As of October 21, 3,772 companies are listed on the third board, exceeding the combined number of companies listed on the Shanghai and Shenzhen stock exchanges.
That surge could well be a result of the regulator-imposed halts to initial public offerings at the two major stock exchanges to prevent a market crash in June and later.
Between June and September, listed companies raised a total of 52.5 billion yuan ($8.27 billion), more than twice the value raised by companies in the first five months of this year, according to data from the NEEQ.
Analysts expected that the total number of NEEQ-listed companies would exceed 6,000 by the end of this year.
But thin trading turnover and lack of proper regulation have exposed flaws in the market. This will likely bring about major changes in regulations relating to listing and trading mechanisms, analysts said.
Xie Geng, general manger of the NEEQ, told a recent forum that the regulator has been studying plans to divide the market into multiple tiers so that different listing and trading requirements could be formulated for different companies.
Ji Yuntao, an analyst at Industrial Securities Co, said that a multi-tier market arrangement would help boost liquidity. It would also help investors weed out bad companies and back good companies.
"When a listed company is classified in a lower market tier, greater risk should be factored in its share prices. Poor companies will then attract little attention from investors and will be gradually eliminated," he wrote in a research note.
Zhang Yuan, an analyst at Minsheng Securities Co, said that the reform of the current market-maker system is critical for the future development of the NEEQ.
According to the current listing rules at the NEEQ, companies can appoint securities firms to act as a market maker to quote a buy and sell price of their shares.
Unlike the open price-bidding process in developed markets such as the US Nasdaq market, traders at the NEEQ can privately negotiate prices with sellers, resulting in share prices being substantially different from the market price.
The insufficient number of market makers has led to the monopoly of shares by securities companies, which creates scope for them to manipulate market prices and engage in illegal trading, Zhang said.
"The reform should focus on rooting out the ineffective market-maker mechanism that distorts share prices, expanding the supply of market makers to increase competition among securities brokers," she said.