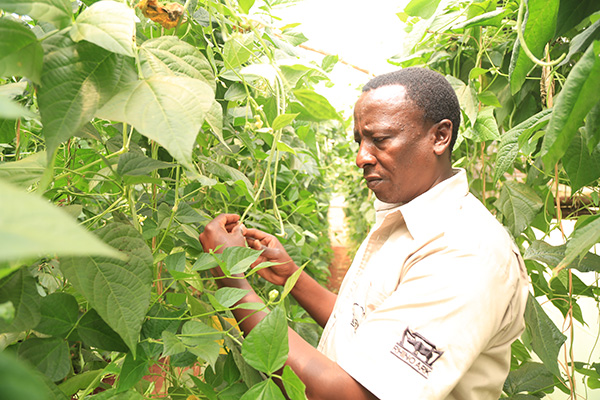 Mungai Nguku, a former art director in the film industry in Los Angeles, grows Chinese long beans in a greenhouse in Kenya. [Photo/China Daily]
On a small farm in Kiambu county, less than an hour's drive from the Kenyan capital Nairobi, stand three greenhouses. Inside one, Chinese long beans have made their way along the strings set for them up to the ceiling. They stand there line by line, like soldiers on parade. Beans hang down everywhere, suggesting a good harvest.
This visual tour de force is a fitting tribute to Mungai Nguku, who worked as an art director and set designer in the film industry in Los Angeles for more than 20 years and returned to Kenya 18 months ago. Four months later he decided to branch out into a completely new field, and now the Tinseltown art director is a man of the land, a farmer no less.
Nguku, 44, is a pioneer in Kenya in foreseeing the potential for Chinese vegetable markets in his country.
This leap of faith has not been that difficult, he says, even though he has had to transform himself from someone creating "something that's not real" into someone who is "creating something that actually helps a lot of people".
In fact, Nguku does not consider that he has abandoned the world of creativity with his new undertaking, seeing it as another kind of art.
With the rising number of Chinese now living in Kenya, he says, there is huge potential in the Chinese vegetable markets. Not only that, Chinese vegetables will almost certainly become very popular among Kenyans. His ultimate aim is to feed as many as 1 million people.
"The film industry was very challenging, and I could not make enough money to support my family. I became a little depressed, so I decided to come home," Nguku said.
Last November, he erected a greenhouse on his farm, on which he grew corn and other vegetables. Before long he found that these crops were so prolific that he needed more greenhouses.
"I thought I would need only one, but once that was up, I built another."
Trees on his land of a little more than 1 hectare needed to be felled to make way for his farming.
"The way I now look at it is I am an artist. The soil is my canvas for painting, and the seeds and other things I use are brushes and paint. I am using the soil to paint; I am creating food by doing that. Many people think farming is for poor people, but that's not true," he said.
As luck would have it, Nguku got to know a Chinese man who was looking at setting up a Chinese vegetable market in Kenya. The Chinese man visited Nguku's farm, and the two decided to help each other.
He offered Nguku seeds and advised him on how to plant Chinese vegetables. The Chinese farmer also buys all the Chinese vegetables Nguku grows. Now he is extending the planting of Chinese vegetables to other, unused, parts of his land, and he recently spent about 2.5 million Kenyan shillings to have a 200-meter well drilled to guarantee water.
Nguku also plans to build pipes to take water to two parts of his land nearby, covering about 0.8 hectares in total.