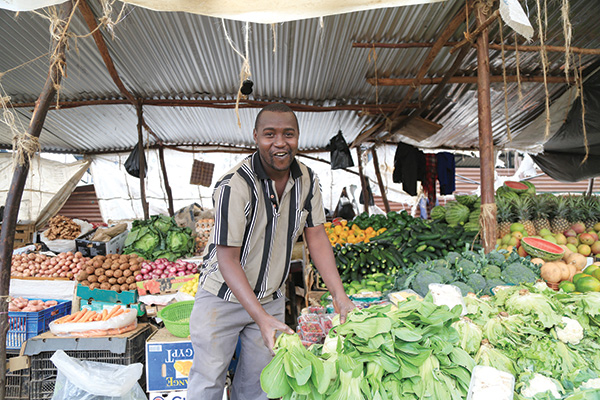 A Kenyan vendor sells Chinese vegetables in a market in Nairobi. [Photo/China Daily] 
Ten years living and working in South Africa taught Joseph Githu, 36, an important lesson: growing Chinese vegetables is a lucrative business.
He worked as an electrician on farms and realized that farmers there had invested heavily in horticulture.
"The market was there, and the returns were good," the Kenyan farmer said.
"I realized that I was wasting my time in South Africa and that I could do what they were doing on my farm back home."
So, unlike many other young Africans looking for greener pastures who settle in South Africa permanently, Githu returned to Kenya last year to live on his family's 10-hectare farm.
The farm is about two hours' drive from downtown Nairobi in an area called Githu, which, with its cool and wet climate, is conducive to dairy farming and tea growing. Dairy farmers in the area have pooled their resources to sell milk in eastern and central Africa.
A similar undertaking is Palmhouse dairy factory, about 1 kilometer from Githu's home, and he is optimistic that it will be just as successful.
Tea plantations blanket the steep slopes characteristic of the area. These bushes are ideal for conserving soil, and tea prices have been stable for many years, Githu said, so from when he was young, the industry has been blessed with success.
Yet, Githu wanted to do something different.
He cleared about 4,000 square meters of unused flat land and planted five grams of Chinese cabbage seeds that had come from South Africa. He also planted normal cabbages, celery and parsley.
However, the Chinese cabbages were the fastest-growing and looked just as impressive as the ones he had seen in South Africa.
He then decided to search for different Chinese vegetables, and he soon came across bok choy seeds, which grew just as successfully.
What greatly surprised him was the positive response from the market.
"I went and talked with vendors at Nairobi City Park Market and I received orders that I promptly met. I also got a good idea of what else I should plant, because the supply of Chinese vegetables to the market was poor. I had the land, and the market is there," Githu said.
For many years, the Nairobi market, about 10 minutes' drive from the downtown area, has served the large Indian community that surrounds it, and is known for the wide range of vegetables on sale rarely found in other markets around the city.