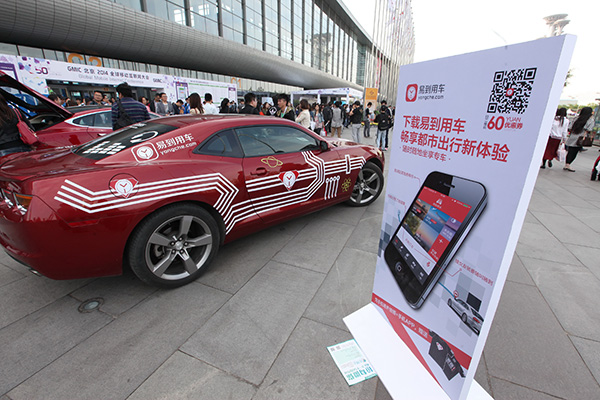 Yidao Yongche was the first car-hailing service provider in China. [Photo/China Daily]
Chinese Internet company Leshi Holding (Beijing) Co's super electric car subsidiary started upgrading Aston Martin's telematics system on Saturday, right after taking control of car hailing platform Yidao Yongche on Tuesday.
Leshi agreed to invest $700 million in return for a 70 percent stake in Yidao Yongche and make the brand's face value reach $1 billion.
Jia Yueting, CEO of Leshi Holding, said: "Leshi's strategic investment in Yidao is a critical part of our automotive system that consists of technology, business and capital."
Zhou Hang, CEO and founder of Yidao Yongche, said: "As the first car hailing service provider, we joined hands with Leshi to provide a safer, more comfortable mobility approach."
Yidao Yongche expects to become the second Internet company to receive an official permit from the government to run a car hailing service after Didi Kuaidi, and it is in talks with some local governments and traffic management authorities.
Yidao Yongche and China's largest home appliance maker Haier entered into a joint venture called Haiyi in January. Haiyi is investing 8 billion yuan ($1.25 billion) in a new car fleet in preparation for future expansion.
China Renaissance, the financial consultants overseeing the deal, said it was a creative cooperation between two innovative players in transportation and expects it will bring new evolution to the industry.
The deal is part of Leshi's expansion into the automotive market. The Internet company, whose business started with content streaming website letv.com, is an aggressive new player in the automotive field.
Leshi and Aston Martin started improving the telematics system for the Britishmade sports cars, after postponing the signing ceremony and relocating it from the United Kingdom to China. They agreed to partner up for pure electric car projects in April.
Leshi announced its electric car plan in December 2014 and released its driver's cabin concept at Shanghai Auto Show in April.