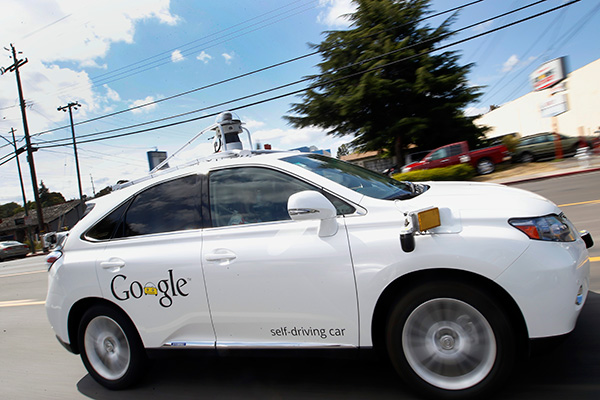 Google's self-driving Lexus car during a demonstration at the Google campus in Mountain View, California. Google has spent six years working on cars that can drive without human assistance, but the company says it doesn't want the responsibility of building the robotic vehicles. [Photo/Agencies]
Autonomous driving on the way, but it will come in stages
Automotive insiders predict driverless vehicles won't be a common sight on the roads in the next few years, but partially autonomous driving may arrive soon.
United States management consulting company Boston Consulting Group expects the first partially autonomous vehicles this year or next, with the first fully autonomous production vehicle expected in 2025.
Robert Bosch GmbH's chairman of the board of management Volkmar Denner said that high-speed autonomous driving may be possible on expressways in 2020, but it would be realized step by step, beginning with automatic parking in 2018.
"Bosch is providing those practical and critical parts toward future autonomous driving, including driving assistance, high-speed adaptive cruise control assistance, and emergency hard braking," said Denner.
Volvo Cars' chairman of the executive board Hakan Samuelsson said that autonomous driving will only occur on certain roads during certain periods.
Samuelsson said: "An aircraft is not on auto pilot mode during takeoff or landing. Likewise the driver's control is needed when starting and stopping a car. We will have 100 cars take part in an autonomous driving trial in Sweden by 2017. If successful, the car will be put in to mass production by 2020."
Volkswagen AG's member of the board of management Jochem Heizmann said there will be three steps before the introduction of self-driving cars: first driver assisted, then automated parking, then semi autonomous driving with the drive responsible for starting and stopping the vehicle.
Heizmann said: "It requires intelligence to use the information collected through sensors around the car and to anlayze whether an accident or traffic jam lies ahead."
In an earlier interview, BMW China's president and CEO Karsten Engel said the automaker already has a system capable of autonomous driving. In the United States in January, Daimler announced its F015 Luxury in Motion concept car demonstrated fully autonomous driving capability in a test run.
Thomas Dauner, global leader of BCG's Automotive practice, said:" Some of the current technologies are industry solutions; some still need adoption. It will still take five to 10 years to have a driverless system work without error."
Dauner stressed that the GPS system and maps are not accurate enough at present and the WiFi connections are not fast enough to communicate the huge amount of information required with cloud servers.
Xu Gang, managing director of BCG's Automotive Practice Greater China, said: "The autonomous driving technologies are in the suppliers' hands, the automakers are competing in terms of integration capabilities."
Xu said autonomous driving is a great opportunity for Chinese automakers and suppliers to overtake the international companies. There will be opportunities to boost their exports volumes in the future, as the anonymous driving features are forecast to have a market value of $42 billion by 2025, increasing to $77 billion in 2035.
BCG found all of the innovations and tests on autonomous driving systems happened outside China, and there had been slow adoption of adaptive cruise control.
The ACC penetration in China was only 5 percent rate in 2014, ranking fourth in the world behind the US with 6 percent and Western Europe and Japan, where the adoption rate is 11 percent.