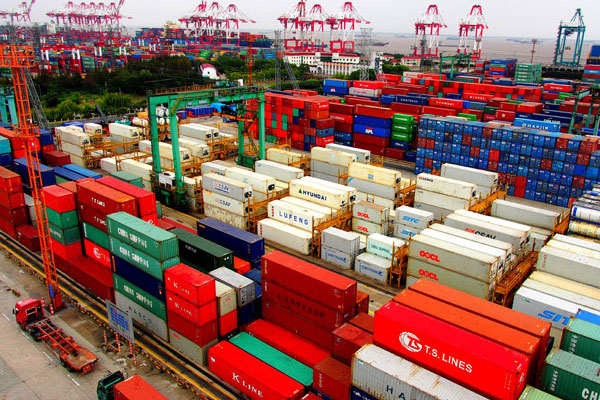 Containers pile up at Waigaoqiao Port in the Shanghai Free Trade Zone. [Photo/Xinhua]
China must accelerate the negotiation pace of the Regional Comprehensive Economic Partnership and other regional free trade agreements, an expert said on Sunday, to be better able to confront any challenges posed by the United States-led Trans-Pacific Partnership.
Zhang Jianping, director of the International Economic Cooperation Institute of the National Development and Reform Commission, said that apart from upgrading its industrial structure and promoting the Belt and Road Initiative, China has initiated and deepened negotiations on regional free trade to reduce possible effects on its exports.
These include the RCEP talks, China-ASEAN Free Trade Agreement, China-South Korea-Japan Free Trade Agreement and Free Trade Area of the Asia-Pacific.
"Since all these ongoing talks don't include the United States, it would be helpful to enhance China's foreign trade and outbound direct investment activities amid current global economic setting," said Zhang.
The comments were made after various foreign media claimed that the TPP can be a tough tool to exclude China's economic presence in the Asia-Pacific region, after the United States and 11 Pacific Rim countries reached a basic agreement on the TPP on Oct 5.
China hopes to complete negotiations on the Regional Comprehensive Economic Partnership by the end of this year, which would link the Association of Southeast Asian Nations with China, Australia, India, Japan, New Zealand and South Korea, accounting for one-third of the global gross domestic product.
The country has also established domestic free-trade zones in Shanghai and Tianjin, and Guangdong and Fujian provinces. For these reasons, the central government proposes adopting an open attitude and respecting the coexistence of the TPP, as well as other regional free trade deals under WTO rules.
China has signed bilateral and multilateral free trade agreements with seven TPP members. The country and Singapore are the biggest investors in each other's markets. So there is no evidence that all TPP members wish to use this deal to affect China's earning ability, Zhang said.
Liu Chenyang, a researcher at the APEC Study Center at Nankai University in Tianjin, said as long as China can develop free trade zones at home and free trade areas abroad, implement its Belt and Road strategies, and constantly deepen its reform and opening-up, it will be able to transform its economy and respond well to the challenges from home and abroad.
"However, the TPP, if it doesn't violate WTO rules, will only slightly affect China's lower-end manufacturing sectors including garment and other daily life materials production industries in the short term," said Liu.
The distinct influence of the TPP will reveal itself after 2017, he said, after all members jointly announce the TPP details according to their reviewing procedure and meeting schedule.