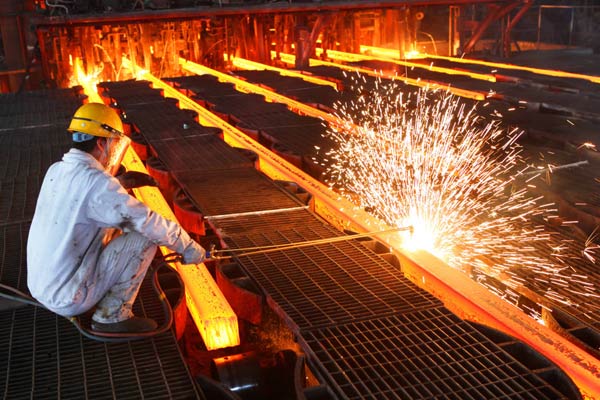 A worker cuts steel bars on the production line of a mill in Lianyungang, Jiangsu province. [Si Wei / For China Daily]
Nation must try hard to upgrade traditional industries, ministers and economists are told
Premier Li Keqiang has pledged "firmer resolve and greater efforts" to tackle the long-standing problem of industrial overcapacity as "old growth drivers" such as manufacturing and investment continue to struggle.
China is experiencing a tough time and pain in shifting to new growth drivers featuring high-tech and service industries, he said.
"We should strive to upgrade traditional industries," he told a seminar on the country's economic situation held in Beijing on Wednesday. The gathering was attended by economists and ministers.
Li highlighted the pressing need to curb industrial overcapacity, which has been blamed for surplus inventory and shrinking profits in the industrial sector and a drag on overall economic growth.
In the third quarter of this year, China posted a growth rate of 6.9 percent, the slowest since the 1998 financial crisis, amid challenging economic conditions globally.
"From next year, we should be determined to cut back on overcapacity in traditional industries as well as a large number of zombie enterprises," he said while pointing to the worst-performing steel and coal industries.
The seminar, held ahead of the upcoming Central Economic Work Conference, was aimed at seeking suggestions from economic researchers for next year's economic policymaking.
Li Daokui, director of Tsinghua University's Center for China in the World Economy and one of the six experts invited, warned that excess and backward industrial capacity is one of the major economic woes.
With China producing 800 million tons of steel a year, four times more than any other country has ever produced, the sector is experiencing overcapacity of about 400 million tons as construction slows.
Large and medium-sized Chinese steel companies saw overall losses in the first eight months of this year after recording profits a year ago, according to the China Iron and Steel Association.
Data last week showed profits earned by Chinese industrial companies fell by 4.6 percent year-on-year in October, declining for the fifth consecutive month due to soft demand and overcapacity.
Li said the mass new job opportunities generated by emerging industries over the past few years have helped to lay the ground for quickening the upgrading of traditional industries.
He called for the introduction of technical, safety, environmental and energy consumption standards, coupled with financial support and mergers and acquisitions, to speed up capacity consolidation.
He also stressed that restructuring reforms covering both supply and demand should be carried out next year.
Last month, a top-level meeting of the Central Leading Group on Finance and Economic Affairs, which was headed by President Xi Jinping, announced that China should strengthen structural reform on the supply front.
The move is aimed at increasing the quality and efficiency of the supply system and providing growth impetus for sustainable economic development.
Observers said this indicates the new thinking of China's top leadership on macroeconomic policy.
Premier Li also said at Wednesday's meeting that reforms covering supply and demand should be handled in a balanced way, as the Chinese economy is still seeing a lack of demand in some sectors.
"Efforts to moderately expand demand should continue in future," he said.