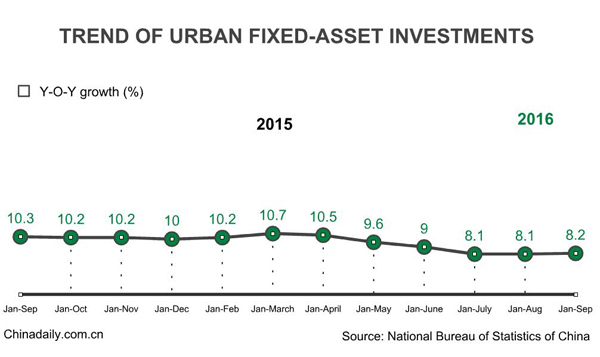 BEIJING - China's fixed-asset investment (FAI) in the first nine months grew 8.2 percent year on year, slightly up from the 8.1 percent registered during the January-August period, official data showed Wednesday.
In September, FAI rose 9 percent year on year, accelerating from 8.2 percent in August and 3.9 percent in July, as the country boosted infrastructure spending to stabilize economic growth, according to data from the National Bureau of Statistics (NBS).
Infrastructure investment expanded 19.4 percent in the first nine months, while FAI in the industrial sector climbed 3.2 percent during the period, up from 2.9 percent in the first eight months.
Private sector FAI, which accounts for more than 60 percent of the total FAI and had concerned policymakers for its lackluster growth, grew 2.5 percent in the first nine months, increasing from 2.1 percent in the first eight months.
On a monthly basis, private sector FAI rose at a faster pace of 4.5 percent in September, up from 2.3 percent in August, due to improving economic activity and government efforts in cutting red tape and easing private investment restrictions.
Fixed-asset investment includes capital spent on infrastructure, property, machinery and other physical assets.
Growth in property development investment continued to accelerate, to 5.8 percent in the first nine months from 5.4 percent in the first eight months, and 5.3 percent during the January-July period.
Housing sales maintained steady growth. In terms of floor area, property sales jumped 26.9 percent in the first nine months, accelerating from 25.5 percent in the first eight months, largely supported by credit extensions from commercial banks.
NBS spokesperson Sheng Laiyun said property sales has played an important role in driving the economy, contributing 8 percent to GDP growth in the first three quarters.
The country's property market has become increasingly divided with major cities reporting record prices and imposing purchase restrictions while smaller cities struggle to tackle large inventories and explore ways to increase sales.
The figures were among a series of indicators released by the NBS, including GDP, industrial production and retail sales, which all pointed to a stabilizing economy.
The NBS said that China's GDP expanded 6.7 percent year on year in the third quarter, holding steady with the second quarter and within the government target range of 6.5 to 7 percent for 2016.