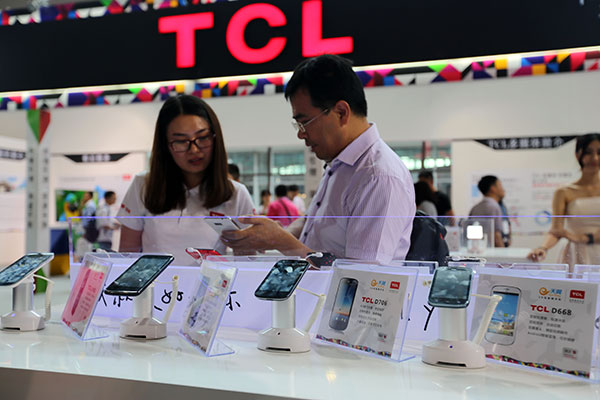 The TCL booth at a mobile phone expo in Guangzhou, capital of Guangdong province.[Photo/China Daily]
BUENOS AIRES - Chinese electronics giant TCL Corporation plans to invest $100 million in Argentina over the next 12 months, Argentina's government announced on Tuesday.
The announcement followed a meeting between Argentine President Mauricio Macri and the CEO of TCL, Li Dongsheng, at the presidential headquarters and residence in Argentina's capital Buenos Aires.
"TCL Corporation, based out of Huizhou, in Guangdong province, is one of the largest firms in its field, producing mobile phones, televisions and home appliances, among other consumer goods," according to a news item posted on the presidential website.
"The goal is to build a joint venture with an Argentine company to expand its presence in the country's electronics market," the government said.
Founded in 1981, TCL began as a manufacturer and seller of telephones and related equipment, but its business expanded into other areas in the 1990s.
Today, the TCL employs more than 75,000 people in 80 countries. In Argentina, it has been working with local company Radio Victoria Fueguina since 2004.
The announcement comes amid increasing cooperation between Buenos Aires and Beijing, whose ties are at the level of a comprehensive strategic partnership.
Chinese telecommunications giant Huawei, for example, has made significant headway in Argentina's market.
In July, Macri met with the head of Huawei, Sun Yafang, who announced the company's intention to "expand its presence" in Argentina.
The following month, Huawei opened a Training Center in Buenos Aires, from which the company offers its services to telecom operators, government agencies, educational institutions and private firms in the country and the region.
Located in the city's southern Puerto Madero district, the 1,300-square-meter facility features one of Huawei's signature Customer Solution Innovation & Integration Experience Centers, or CSICs.
"The inauguration of the Training Center drew company clients, suppliers and employees, as well as the ministers of Modernization, Andres Ibarra, and Communications, Oscar Aguad; China's ambassador to Argentina, Yang Wanming, and his Argentine counterpart in China, Diego Guelar," financial daily Cronista Comercial reported on the event on Aug 17.
Throughout 2016, China has consolidated its position as Argentina's second-largest trade partner worldwide, with a 13 percent increase in imports from Argentina, thanks to a wider range of goods and a more balanced trade structure.