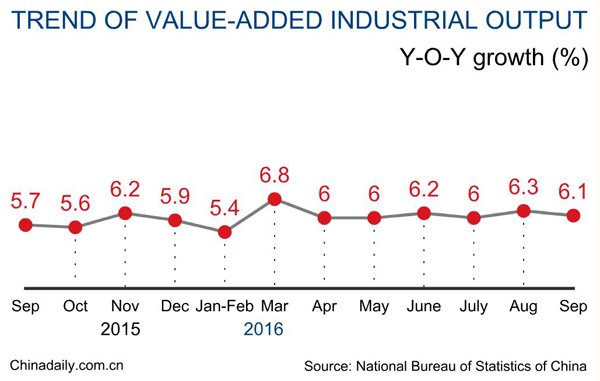 BEIJING - China's industrial output expanded 6 percent in the first three quarters of 2016, largely due to strong performance in the high-tech and equipment manufacturing sectors, official data showed Wednesday.
The growth rate was unchanged from that in the first half of the year, the National Bureau of Statistics (NBS) said.
Industrial output is used to measure the activity of large designated enterprises with an annual turnover of at least 20 million yuan ($2.97 million).
In September, industrial output rose 6.1 percent year on year, missing forecasts of 6.4 percent, and down from 6.3 percent in August.
The increase in the country's industrial output was largely buoyed by the fast-developing high-tech and equipment manufacturing sectors.
Industrial output for the two sectors jumped 10.6 percent and 9.1 percent during the first three quarters, respectively, much faster than overall growth.
The two sectors contributed 12.2 percent and 32.6 percent of China's total industrial output in the first nine months of the year.
After more than a decade of double-digit growth, the country's annual industrial growth slowed to 8.3 percent in 2014, and 6.1 percent in 2015, due to mounting downward economic pressures.
China's gross domestic product grew by 6.7 percent in the third quarter, the same as the second quarter, NBS data showed.