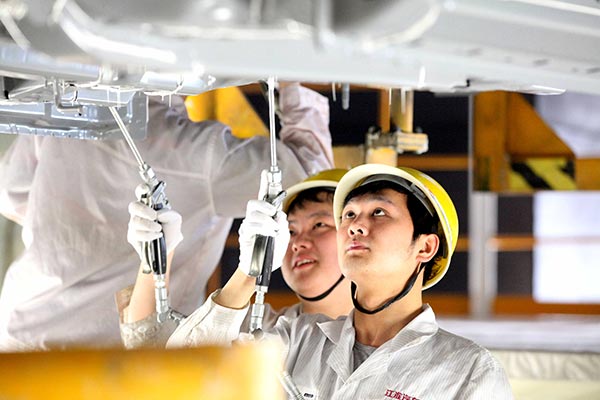 Workers at the production line of Anhui Jianghuai Automobile Co Ltd in Hefei, capital of Anhui province. [Liu Qinli / For China Daily]
BEIJING - China's industrial output rose 6 percent year on year in May, unchanged from April, official data showed Monday.
The pace of increase slowed from 6.8 percent registered in March and 6.1 percent posted in the same month of last year, according to data from the National Bureau of Statistics (NBS).
Value-added industrial output, one of the leading indicators for economic growth, rose 0.45 percent in May from April.
In the first five months, industrial output grew 5.9 percent from one year earlier, up from 5.8 percent registered during the January-April period.
Value-added industrial output measures the output of Chinese companies with annual revenues above 20 million yuan (about $3 million).
The output of the hi-tech and equipment manufacturing industries maintained strong growth, rising 11.5 percent and 8.5 percent, according to NBS.
Manufacturing output expanded 7.2 percent in May. Mining output fell 2.3 percent and the output of the electricity, heating, gas and water sectors grew 2.4 percent, the NBS said.