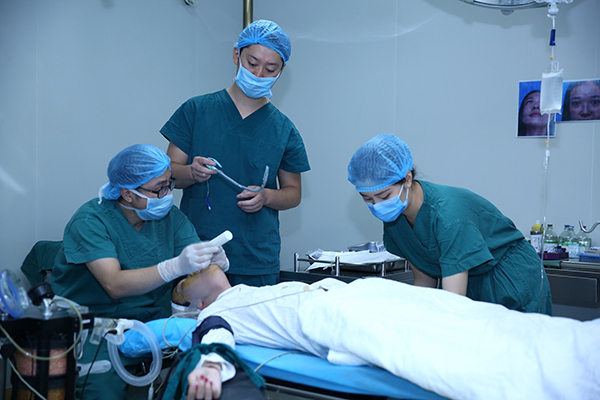 A woman receives a cosmetic surgery in an operating room in a hospital in Chengdu, Sichuan province. [Photo provided to China Daily]
About 60 percent of the complications caused by cosmetic injections in China were reported at unlicensed institutions, top specialists estimate, urging beauty pursuers to seek services from qualified hospitals and physicians.
Currently, the clostridium botulinum bacterium, also known as botulin toxin or Botox, and hyaluronic acid are the top two cosmetic injectables on the market, according to Wang Xiaojun, director of the plastic surgery department of Peking Union Medical College Hospital.
The former is approved by drug authorities as a treatment for facial wrinkles and works by blocking the release of acetylcholine, the chemical responsible for transmitting motion signals to the muscles.
The latter works to level out wrinkles and fill depressions and can also be used for lip augmentation. It's registered as a medical appliance with a purely physical holding effect.
"The demand and market for cosmetic injections keep growing because the Chinese are getting rich. But, people's pursuit of beauty and health has been seriously undermined by substandard or fake drugs and services," Wang warned.
Common side effects of cosmetic injections include allergic reactions, rash, itching, headache, neck or back pain, muscle stiffness, difficulty swallowing, shortness of breath, and drooping of the eyelid, experts said.
These are highly associated with the quality of the injected material and the injection technique. Also, if the syringes used to inject the substance or the substance itself are contaminated, there is the potential to transmit infectious diseases like hepatitis and HIV.
Qi Zuoliang, head of the Plastic Surgery Hospital of the Chinese Academy of Medical Sciences, said that sometimes it even costs lives.
In November, 2010, a well-known singer named Wang Bei died during facial contour surgery, previous reports said. The problems began when the doctor sliced a blood vessel and the flow of the blood couldn't be stopped as it flooded into her lungs.
Qi urged beauty seekers to turn to qualified health professionals at licensed hospitals.
According to the Chinese Association of Plastic and Aesthetics, there are tens of thousands of practitioners in the section, but only 2,700 are registered with the authority.
"The unlicensed ones mostly practice cosmetic injections, about 90 percent of their total procedures," said Li Bin, head of a private plastic surgery clinic headquartered in Beijing.
At qualified hospitals, injection usually accounts for 35 percent of total procedures, he added.
The market was valued at four 400 billion yuan ($60.6 billion) in 2015 and is expected to increase by 30 percent annually.
Li Weiwei, director of the plastic surgery department of Beijing Tsinghua Changgung Hospital said some places such as beauty salons and club also provided cosmetic injections.
"I used to receive patients who lost their eyesight due to improper injection there," she said.