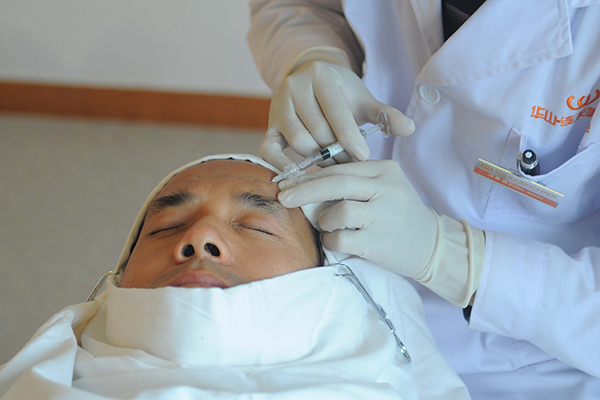 A man receives injection during cosmetic surgery in a hospital in Hangzhou, Zhejiang province. [Photo provided to China Daily]
Many more women opting for Botox or hyaluronic acid facial injections
Aesthetics care has become the new luxury bag for many women in urban China.
For example, Wang Qianqian, a mother of a three-year-old, is increasingly aware that her school friends are getting prettier despite their age.
She found that their secret "fountain of youth" is injections of hyaluronic acid treatment and Botox. So, she decided to apply hyaluronic acid under the skin of her face and around her eyes. She also used laser treatment that removed spots on her cheeks. The combined treatments cost 50,000 yuan ($7,575) and she has to take it regularly to keep her current looks.
"It is the most valuable investment I've ever made," said Wang, a senior executive of an internet and culture company in Beijing. "I am more confident since my face skin looks tighter and brighter."
Wang is among thousands of Chinese women who have contributed to the 500 billion yuan market, according to an estimate by the Chinese Association of Plastics and Aesthetics in 2015. It is expected to become the world's second largest market, rising to one trillion yuan by 2019.
The industry is growing at 20 percent annually. In some specific categories, the growth rate exceeds 50 percent. According to the association, the number of people employed in the medical skin care industry has grown to about 500,000.
Chinese women have strong interests in investing in their facial appearance. According to Mintel Group Ltd's report on Facial Skincare released in August 2016, the facial skincare market was worth more than 91 billion yuan by the end of 2015 with a year-on-year growth rate of 11.5 percent.
The market will continue to see strong growth supported by the demand for anti-aging and antipollution products, said the report. In addition, the hydration segment will continue to see strong growth as well.
Corporate employees, government civil servants and businesswomen accounted for more than 70 percent of the number of people using medical beauty services in 2015, suggesting the advantages and benefits brought by good looks. But, the newcomers participating in such treatment are getting younger each year.
Sadie Zhang, a manager at Ladyjoy, a Beijing-based institution focusing on medical skincare, said that the plastic surgery and medical skin care industry has been emerging during the last five years. "Good appearance helps relationships and work," she said. "Even teenagers have come to us for a better look. It is no longer a treatment only for celebrities."
Twenty to forty year-olds demand entry level or skin enhancement, while those who are in their 40s choose more anti-aging treatment, said Zhang.
Investors and venture capitals have also rushed to the medical skin care sector, where barriers to entry are relatively low and policy restrictions are loose. Sino-KirPlastic and Aesthetic Co Ltd, Lidu Plastic and Aesthetic, and GuizhouLimacon Hospital are publicly traded. Many medical skin care applications also have attracted investment.
Wu Jianying, CEO and general manger of Shanghai Haohai Biological Technology Co Ltd, said China's medical skin care market has taken about 20 percent of the global market, thanks to the demand for high quality of life as incomes have risen. According to the company's first half-year report, sales have risen 25.1 percent, mostly due to its product Matrifill-a cross-linked sodium hyaluronate gel, which has increased 148.7 percent year-on-year.