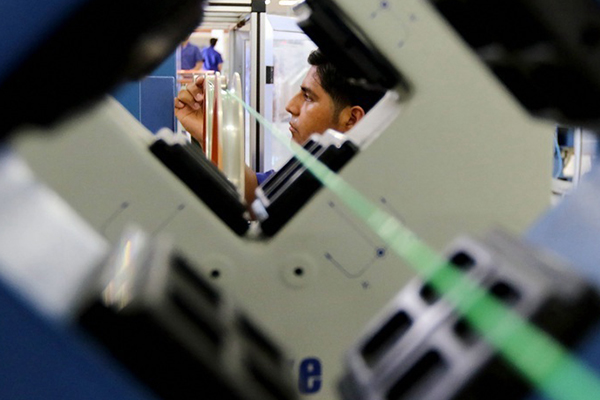 A staffer checks a fiber-optic cable at Latamfiberhome Plant in Duran, Guayas province, Ecuador, on Aug 26, 2016. [Photo/Xinhua]
MEXICO CITY - Many more Latin Americans are plugged into the Internet than ever before, according to a study released this week by a United Nations agency.
Between 2010 and 2015, the percentage of Latin American households connected to the Internet nearly doubled, to 43.4 percent, the Economic Commission for Latin America and the Caribbean (ECLAC) reported earlier this week.
That matters immensely to the digitalization of the economy of Latin America, a region that is still struggling to develop, and that can no longer rely on its abundance of natural resources to drive growth, especially at a time when the price of raw materials on the international market is notably low.
"We cannot wait for commodities prices to rise again," the director of ECLAC's Production, Productivity and Management Division, Mario Cimoli, told a regional technology conference held in San Jose, Costa Rica on Monday and Tuesday.
"It is necessary for countries to increase their productivity, and that can only be achieved by digitalizing the economy and productive business activities," added Cimoli.
As one of Latin America's leading trade partners, China has been helping the region do just that through both private- and public-sector ventures.
China's leader in telecommunications, Huawei, has been providing solutions to regional telecom services for 18 years, and also offers training and scholarships to Latin America's next generation of techies.
E-commerce giant Alibaba has expanded to the region, making life easier for connected consumers, and web behemoth Baidu is launching a support and mentoring scheme for Brazilian tech startups as it continues to drive its expansion strategy in the country.
Less than a month ago, China's ambassador to Ecuador, Wang Yulin, was on hand to help inaugurate the country's first fiber optics factory, built in the coastal province of Guayas with Chinese cooperation.
The new plant is part of Ecuadoran President Rafael Correa's push to expand Internet access by laying down more fiber optic cables. His government has already connected 32.8 percent of all households by laying down 66,000 kilometers of cables.
The plant, named Latamfiberhome, is the result of a joint venture by Ecuador's Holding Telconet and China's Fiberhome Technologies.
"With the infrastructure ready, we only need to begin using the plan to set up the brilliant future which awaits us," said Holding Telconet's Executive President Tomislav Topic.
"Starting from today, we will be able to export fiber-optic cables made in Ecuador, with Ecuadorian talent and manpower as well as Chinese technology," said Ecuador's Vice President Jorge Glas.
The plant is projected to manufacture 1 million kilometers of fiber-optic cable a year once it is fully operational in 2019.
Ecuador, which currently imports cables worth around 15 million U.S. dollars a year, estimates that it will export cables worth 20 million dollars a year. This joint venture will provide the telecommunications services and high technology to be needed by Latin America.
Baidu, China's web giant, "is launching a support and mentoring scheme for Brazilian tech startups ... to identify salable ventures in the country," Brazil-based technology reporter Angelica Mari wrote Monday in ZDNet.
Through the program, Baidu aimed to give startups a boost with its "experience, traffic, and connections within Brazil and internationally," wrote Mari.
What's in it for Baidu? A "10 percent stake in the capital of the companies selected in the program," she said.
Global telecommunications technology and equipment provider Huawei, which has 18 years of experience in the Latin American market, has helped regional telecom operators expand their businesses as it has grown its own.
The company has been working closely with top local telecom operators like VIVO and TIM in Brazil, Claro in Peru, Movistar in Mexico and Tigo in Paraguay to provide consumers with customized terminals and favorable mobile service packages.
Helping lower prices has been key to expanding Internet access, according to ECLAC's report.
"In terms of affordability, while in 2010 the cost of contracting a fixed broadband service of 1Mbps (megabits per second) represented about 18 percent of average monthly income, by early 2016 that figure had fallen to 2 percent. Affordability also increased significantly for users of prepaid data packages. In several countries, these packages lasting 30 days cost less than 2 percent of income," the UN agency said.
In Colombia, Huawei provides customized telecommunications technology service to main local mobile telecom carriers; in Brazil, six out of seven 4G mobile networks were constructed by the company.
Huawei has also begun to partner with local universities and governments to promote research and innovation.
In 2014, Huawei provided two cloud computing systems to facilitate education development in northern Brazil, offering platforms for online teaching and information sharing.
In a meeting this July with Argentinean President Mauricio Macri, Huawei's chairwoman, Sun Yafang, said her company was considering more investments in the country and is planning to open a Training Center.
The center would initially aim to train some 500 employees, local partners and industry collaborators, and potentially expand into a research and development facility for Latin America, similar to the ones Huawei has in Germany, Sweden, Britain, France, Italy, Russia, India and China.
Huawei famously runs "Seeds for the Future," an educational program that has provided college students around the world, including in Latin America, with scholarships to study information and communications technology.
ECLAC's report, titled "The State of Broadband in Latin America and the Caribbean 2016," was presented at the Conference on Science, Innovation and Information and Communications Technologies, held Sept 12 and Sept 13 in San Jose.