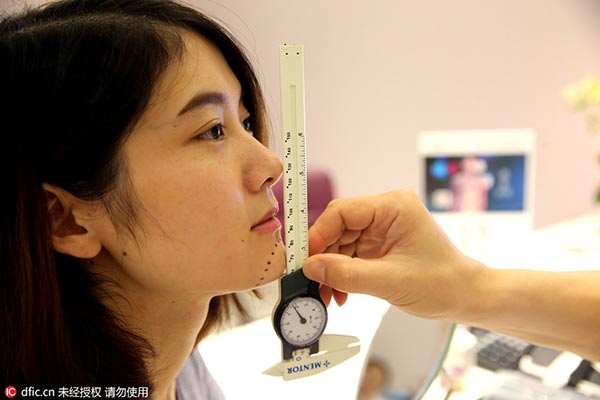 A doctor measures the mandible of a young woman at a plastic surgery hospital in Shanghai, July 22, 2015.[Photo/IC]
BEIJING - Chinese startup Yuemei.com, a leading online marketplace for cosmetic surgery, announced on Thursday it will open ten brick-and-mortar surgery centers by 2017.
It is the first Chinese online medical beauty service provider to make a foray into offline business.
The move was spurred by growing demand from affluent Chinese who are increasingly image-conscious and more willing than ever to pay for sexier lips, thinner faces and whiter teeth.
China's plastic surgery and beauty market stands at about 500 billion yuan ($77.16 billion) by the end of 2015 and is expected to reach 850 billion yuan by 2018, according to an industrial report.
Yuemei.com, which offers patients seeking plastic surgeons with local listings, prices and profile pages for registered practitioners, saw its orders and revenue rising by about 50 percent in the first quarter of this year compared with Q4 2015, according to Xiang Xiaoqin, founder and CEO with Yuemei.com.
Investors are also spotting the opportunity to make a pretty penny from this growing market. Yuemei.com has just secured its series B funding worth 110 million yuan, according to Xiang.
The main problem facing China's cosmetic surgery industry are nontransparent costs and lack of trust on quality. Many Chinese customers instead go to nearby South Korea, which is well known for its plastic surgery, said Zhang Bin, head of Chinese Association of Plastics and Aesthetics.
"The market needs a change more than promotion and advertisement, and combination of online consulting and review rating with offline services will help improve service transparency and quality and reduce patients' costs," Zhang added.